Trip Region: Central America
Country(ies): Guatemala & Belize
Partners Trek? No
Cost: $1985
Airfare Estimate: $700
Structure: 2 • Lodging: 3 • Nightlife: 3 • Activity: 3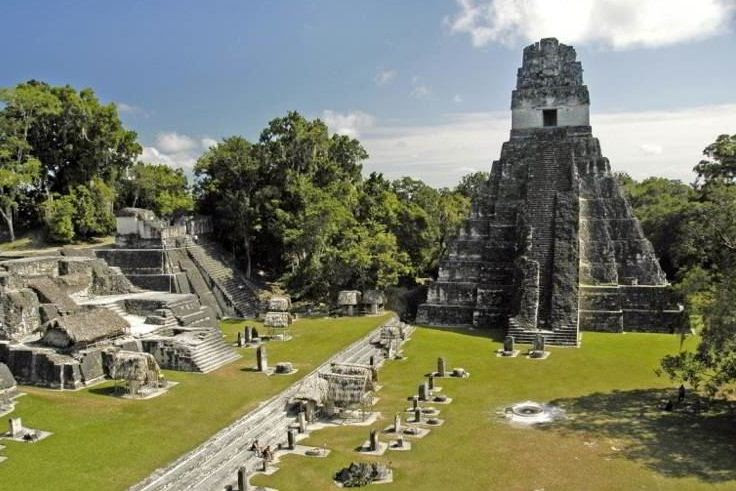 Guatemala and Belize are kind of like the Netflix and Chill of MTreks – first you get hit with history, culture, and wild adventures, and then you're ready to kick it on the beach. Get the full Central American experience walking in the footsteps of the Mayans and Spanish colonists in Guatemala, and relaxing and fiesta-ing in Belize. We start off in historic Antigua, where will explore the beautiful city and learn to salsa. Then get your heart rate pumping while hiking Pacayo Volcano and white water rafting. Discover the rich Mayan culture in Tikal and the ATM cave, minus the whole human sacrifice thing (note: your liver may be sacrificed by the end of the trip). The trip will culminate in Belize, where you can relax in the beautiful city of Caye Caulker. Here we will cruise, snorkel, kayak and/or paddleboard among the colorful corals and tropical fish, sharks, manta rays, and manatees all day, and rage all night. Leave with 11 best amigos, 100 selfies, and thousands of memories. Vamanos!
Day 1 — Sunday, Aug 21
Fly into Guatemala City. Start off the MTrek by understanding more about the Guatemalan culture. In Antigua visit the main square Plaza Mayor, La Merced Church, San Francisco and the Cathedral. Afternoon free to go to other Museums,Cafes, and/or a chocolate workshop. Get to know each other over a delicious authentic Guatemalan meal. At night we will shake a tail feather learning salsa and hit up the local bars after to sample some delicious Guatemalan rum, Ron Zacapa.
Day 2 — Monday, Aug 22
In the morning we will be picked up to go to San Francisco de Sales to Climb up Pacaya Volcano. The hike will start off fairly strenuous through a pine forest, then it continues through a more tricky volcanic ash section and finally to the sulfur smoking cone. From the summit we will be able to enjoy great views to the northern volcanoes, the pacific lowlands and all the way to El Salvador. The afternoon is free to explore Antigua more and hit up the Mercado de Artesanias, a local craft market where you can bargain with the artisans and buy lots of souvenirs. Outside of the market sample some of the best local cuisine, such as tamales and pepian.
Day 3 — Tuesday, Aug 23
Get your adrenaline pumping with a day trip to white water raft on The Rio Coyolate. Pick up by the tour company early in the morning and be back in the evening! The Coyolate river is in the lowland tropical region, and is lined with cascading waterfalls, flowering trees alive with butterflies, blue herons, hawks, and falcons. Dinner and last night out in Antigua.
Day 4 — Wednesday, Aug 24
Head out in the morning to Rio Dulce, a beautiful aquatic community where you will see lots of sailboats. Enjoy a relaxing afternoon visiting the natural hot springs at Finca el Paraiso. You can bathe in the hot water, swim in the cool pool or duck under an overhanging promontory and enjoy a jungle-style sauna. At night sleep in an open-air accomodation looking out into the jungle.
Day 5 — Thursday, Aug 25
Take a boat trip up to Livingston, a Garifuna village, to experience Creole Caribbean culture. Take a short hike northwest of Lívingston along the shore of Bahía de Amatique up to Los Siete Altares, a series of freshwater falls and pools where we can have a picnic and swim. Enjoy the rest of the time there drinking rum on the beach and soaking up the sun.
Day 6 — Friday, Aug 26
Travel to Flores which is about a 4 hour trip. Take time to buy local handicrafts, stroll through the cobblestone streets and look at the cute pastel-holored houses, visit Catedral de Flores, and eat amazing street food. Take a dip in Lake Peten Itza if you are down for a swim. Rest up for a really early start tomorrow!
Day 7 — Saturday, Aug 27
Hike and see the sunrise from atop the ruins at Tikal National Park. Be awestruck by the enormous granite temples towering over the tops of the jungle. These incredible structures are considered some of the most magnificent of the Mayan ruins. Those feeling energetic can hike to the top of the relics for a stunning view of the park. You may even make friends with some friendly toucans and macaws while there. Then we will say "Adios" to Guatemala and head towards San Ignacio. At night meander throughout the town and find food stalls where you can stuff your face with tons of delicious barbecue.
Day 8 — Sunday, Aug 28
The adventure continues at the cave of Actun Tunichil Muknal, a living museum of Mayan relics. Wade through water and climb until you reach the Mayan ceremonial site. Here you will find ceramic pots and crystallised skeletons, preserved by the natural processes of the cave for over 1,400 years. (Note this is a bit of an intense experience in the dark and small spaces, so there will be other options for the faint of heart!) In the afternoon take a bus and water taxi to get to Caye Caulker, a popular tourist destination in Belize known for its incredible reefs and diving opportunities. Closer to sunset, head to the Split and the Lazy Lizard for drinks, music and stunning views. Enjoy a nice group dinner together where you can make sure to sample the local lobster and other fresh seafood, and of course drink more rum!
Day 9 — Monday, Aug 29
Choose your own adventure day! Take a half day snorkel or kayak trip in the morning. Then spend the rest of the day as you choose: rent a bike and explore the town, stand-up paddle board, or soak in those last few rays before you head back to the tundra that is Ann Arbor. Or if you are adventurous and want to give Courtney a heart attack, go diving or kitesurfing. Take a sunset sail (aka booze cruise!) at night to celebrate last night of MTrek!
Day 10 — Tuesday, Aug 30
Head home after an amazing journey. Ferry to Belize City, and fly back to Detroit with 11 new amigos and get ready to make 800 more!