Trip Region: Sub-Saharan Africa
Country(ies): Kenya & Zanzibar
Partners Trek? No
Trip Cost: $2749
Airfare Estimate: $1300
Nightlife: 2 • Activity: 3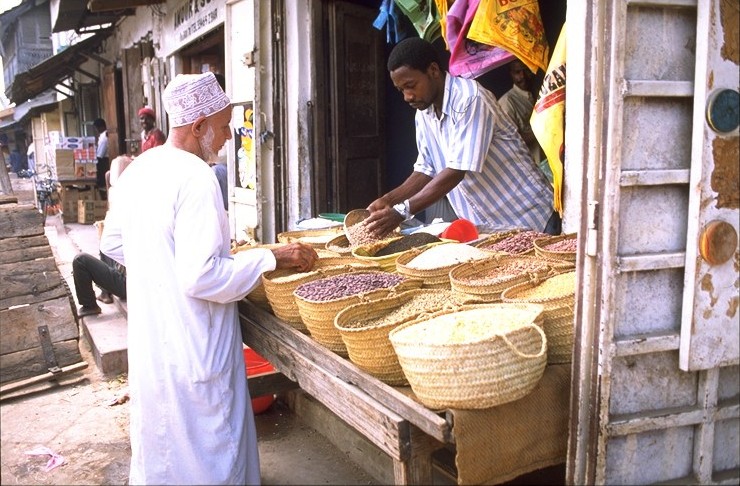 Want to watch the 'big-five' with Mt. Kilimanjaro in the backdrop? Want to interact with local African tribes? Want to relax by the ocean? Want to make bffs for life? Want to hang out with the coolest MBA2s at Ross? If so, look no further – here's an MTrek to beat all other MTreks! The question thus is Ken-Ya handle the (Zanzi)Bar? This trek is a perfect mix of adventure and relaxation. Launch yourself into the animal kingdom at Kenya's finest game parks on this amazing wildlife adventure. Staying in the world famous Maasai mara, experience the superb wildlife viewing as well as the fascinating culture of the Maasai tribes. Witness Mt. Kilimanjaro as it dominates your stay at Amboseli. End this adventure trek with a relaxing stay at Zanzibar, what more could one ask for? This is one African Safari that you will never forget!
Day 1 — Friday, Aug 28
Fly out of DTW and spend the day crossing the Atlantic like jet-setting Wolverines!
Day 2 — Saturday, Aug 29
Arrive in Nairobi and spend the evening unwinding and meeting your fellow trekkers (and future best friends at Ross!). Induction program includes "How to rage 101"
Day 3 — Sunday, Aug 30
After breakfast, we drive from Nairobi to Amboseli National Park. This game reserve is set in the foothills of Mt. Kilimanjaro and the views here are breathtaking. We'll be staying at the park in an upscale lodge. We understand comfort is the key to a fun trek. Overnight at the park. Your leaders will have a fun evening party planned for you at the end of an adventurous first full day in Africa.
Day 4 — Monday, Aug 31
We will spend the full day at the Amboseli National Park. Get your cameras ready as there will plenty of photo opportunities with the animals during the game drives. We'll end the day on a high (literally and fuguratively) while sharing our life experiences
Day 5 — Tuesday, Sep 01
After breakfast, we drive through the Kenyan countryside to the Maasai Mara National Reserve. It is one of the largest and the most famous game reserve in Africa, and home to the 'big-five.' September is the prime month for the 'Great Migration' and it'll be a sight to see. Accomodation again will be at a upscale campsite in the park.
Day 6 — Wednesday, Sep 02
Full day at the Maasai Mara National Park. Partake in game drives and interact with the local Maasai tribes. There is an option to do balloon ride at sunrise which would be an unforgettable experience. Your leaders will have a fun party planned for the night to wrap up another fun day in the African wilderness
Day 7 — Thursday, Sep 03
Continue where you left off yesterday. This will be our last day at a game drive, so be sure to fulfill your senses with the colors, sounds and smells of the flora and fauna
Day 8 — Friday, Sep 04
Transfer from Maasai Mara National Park to Nairobi airport. Fly from Nairobi to Zanzibar (ticket cost included in the trek). Reach Zanzibar, put on our beach clothes and paaarttyyy! We will have a surprise theme party in the night.
Day 9 — Saturday, Sep 05
With Shekawhat's hangover cure, we will be up and running in no time to get on to the beach, get some tan and relax
Day 10 — Sunday, Sep 06
Time to say goodbye. We'll leave with heavy hearts but with some of the best memories of your time at Ross (and your new best friends!). Fly from Zanzibar to Nairobi (ticket cost included in the trek) and from there to Ann Arbor to start your MBA journey. Frequent hangouts as a group in AA to relive the fun time we had in Africa is surely on the cards!
Saurabh 'Wolverine' Nayyar
A true blue Michigan Wolverine, Saurabh couldn't see yet another failing football team and took it upon himself to change things. Using the powerful negotiation techniques learned at Ross, he lured Jim Harbaugh to come back and coach his alma-mater! (yes, you guessed right, Saurabh offered Jim unlimited free 'khakhis'). A keen animal enthusiast, Saurabh has visited more zoos worldwide than you could count in first grade. A former wildlife sanctuary volunteer, don't be surpised if the big cats consider him one of their pals!
Sruthi 'Fireball' Madhavan
Adventure freak that she is, Sruthi has dabbled with scuba diving, sky diving, body rafting, ziplining and has walked a 100 kms in 33 hours. She is excited to be a part on this adventure heavy trek. Don't let the cute looks mislead you. While she says that she reads a lot of books in her free time, you will often find her making her way to the nearest bar all the time. She claims she hates whiskey and cinnamon but you see her downing Fireballs shamelessly. Coming from a family of doctors, she sure has a first aid kit with her all the time. Don't worry y'all, you are in good hands! P.S: Brownie points for anyone who gets her sarcasm!
Ashwin 'AK47' Kumar
If Harold & Kumar were stupid enough to get tempted by a burger ad and travel all night to find White Castle, Ashwin Kumar took it to a different level by traveling 8500 miles from India to only realize that WC doesn't serve anything vegetarian. However, that didn't deter Ashwin even a tad bit. With the ambition of one day building his own castle, Ashwin successfully navigated the snowy cities of Pennsylvania and the smelly subways of New York for over nine years to end up at the best school in the world. His other ambitions include – to get married before he goes bald (Oh, good luck buddy! The timer started long time ago), become the next John Lennon (please don't ask him to sing), and play the lead role in the next Ocean's movie (thanks to the dud Ocean's 14, there will be no 15). How about you smart kids join him in his pursuit to hand feed burgers to the wild cats in Kenya and knock some sense into him. P.S – we still don't know how he made it to Ross – yes, you guessed it right – Sh*t happens!
Aditya 'Rafa' Shekhawat
Having dabbled in consulting and banking in previous life, Aditya came to Ross hoping to find his true calling, instead he found $3 whiskey shots at The Brown Jug. An adventure enthusiast and an avid foodie, he agreed to this trek only after getting in writing that he'll get his own pet hippo for the duration of the trip. He likes to call himself a dedicated theatre artist with a double major in playing the harmless/uselss sidekick of the protagonist. He is the president of an underground clan that organizes interventions for folks who claim to be Whiskey enthusiasts because they love Fireball. He also claims to be the best dancer at Ross and the ferocity of his claim gets stronger with every tequila shot that goes down. In short he is the most intersting person you will ever meet. Okay maybe not the most, but definitly in the top quartile or roundabout. He may or may not have been inebriated while writing this bio.