Trip Region: Sub-Saharan Africa
Country(ies): Kenya
Partners Trek? No
Cost: $2359
Airfare Estimate: $1200
Structure: • Lodging: • Nightlife: 8 • Activity: 6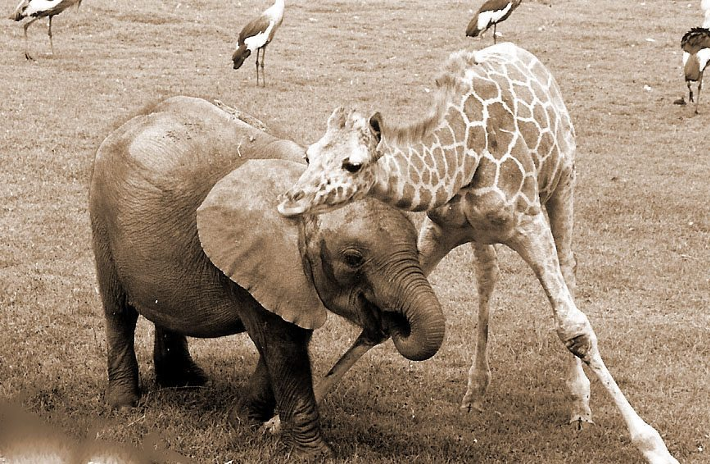 Safaris, Mustafa, Timon, Pumba, beaches and crazy nightlife. What else could you possibly need? We're the group that's going to bring the energy you've lost after spending a long orientation getting to know your classmates and trying to remember the 85 names in your section.
Itinerary map: https://drive.google.com/open?id=1rsP1JWO1M2sv3zU2FChSzf23okE62_wv&usp=sharing
Day 1 — Saturday, Aug 15
Depart the United States for Jomo Kenyatta International Airport in Nairobi. Bring your eye masks and noise-cancelling headphones to get some rest on the red-eye over the Atlantic and continental Africa.
Day 2 — Sunday, Aug 16
Arrive in Nairobi with your fellow Trekkers, where a private shuttle will transfer us to the 5-star InterContinental Hotel in the center of Nairobi. We will have a welcome meeting with our guides followed by a group dinner before hitting the sack for some well-deserved ZZZs.
Day 3 — Monday, Aug 17
The most important meal of the day is included, so make sure to grab a bite before we hit the ground running with a busy day in Nairobi. First stop is the Giraffe Center, where we will get the opportunity to get up close and personal with the tallest animal in the world; you might even get to kiss one! We'll head to the Daphne Sheldrick Elephant Orphanage to see the rehabilitation efforts of baby elephants in East Africa. After our day with the wildlife, we'll go to the Karen Blixen Museum, the estate that carries the name of the author of Out of Africa and home to a coffee plantation she established. We'll end the day with visits to two local businesses, Kazuri Beads and Ocean Sole. Kazuri Beads employs local needy women to make, decorate, and string together beaded art in order to create a positive impact in the community. Ocean Sole is an effort to recycle discarded flip-flops that pollute Kenya's waterways and turn them into unique works of art. We will go see how these two enterprises are making a lasting positive impact on their communities before heading back to the hotel for the evening.
Day 4 — Tuesday, Aug 18
Remember to bring your cameras or binoculars because today is all about wildlife at the Nairobi National Park! Home to over 100 mammalian and 400 bird species, you can see four of the Big Five (lions, buffalos, leopards, and rhinos) with the city of Nairobi offering a spectacular backdrop. We'll drive through the park to see as many animals as we can, so you'll have some once-in-a-lifetime photos to throw on social media.
Day 5 — Wednesday, Aug 19
Grab your last breakfast in Nairobi and don't leave your swimsuit behind, because we are off to the beach today! We'll take a short internal flight to Ukunda Airstrip, right in the resort town of Diani Beach! Check in to the luxurious Leopard Beach Resort & Spa, where we will have a relaxing stay for the remainder of the trip. Here, the group will enjoy some of the best beaches in the world along with great food and drinks at the resort's many dining options.
Day 6 — Thursday, Aug 20
Grab an early breakfast because we're making a short, early drive to Shimoni for a tranquil cruise on a traditional dhow ship over to Kisite Marine Park, where we will have the opportunity to see and snorkel with the local dolphin pods! After playing with Flipper and his friends, we'll make landfall on Wasini Island for an exotic seafood lunch served in traditional fanfare (with options for vegetarians and non-seafood fans). Once lunch is finished, we will make our way back to the resort with an evening left to our own devices.
Day 7 — Friday, Aug 21
This day will be spent in Mombasa, Kenya's oldest city founded around 900 CE. An entry point into continental Africa, Mombasa has a rich and mixed history with influences from Arab, Indian, Portuguese and British cultures. As part of our city tour, we will see the Hindu temple, visit the elephant tusk sculpture initiated by Queen Elizabeth's visit, a Portuguese castle and the Akamba wood carving factory. We will have lunch in Mombasa before heading back to the resort for the afternoon and evening.
Day 8 — Saturday, Aug 22
We will spend the next to last day in Kenya on a glass bottom boat, observing the exotic underwater world of the Kenyan coastline from the comfort of being above the seas. Near Diani Beach lie sheltered coral gardens that are home to a wide variety of reef fish that we will get to enjoy as we cruise for a few hours along one of Africa's most beautiful coasts. If the tides are low enough, we will get to make landfall on the white sand Robinson Island, home to some of the most beautiful underwater creatures across all of Kenya's coastline. After the boat ride, we will have the remainder of the day to relax and partake in other activities at the resort.
Day 9 — Sunday, Aug 23
Take one last opportunity to relax, soak up some sun, and enjoy the outdoors before we leave Kenya. The resort offers a ton of activities from sports, yoga, and entertainment to daytrips for surfing, kayaking, and fishing. For lunch, you will get to be the chef! We will have a private cooking class and BBQ where we will learn to make some of the local specialties. Spend one last night getting to know each other at dancing events held by the resort before heading back to the real world!
Day 10 — Monday, Aug 24
After checking out from the hotel, a private bus will drive us to Ukunda airfield, where we will fly to Wilson Airport in Nairobi. From there, a second bus will transfer us to Jomo Kenyatta International Airport for our return back to the USA.