Trip Region: Europe
Country(ies): Greece, Turkey
Partners Trek? No
Trip Cost: $2520
Airfare Estimate: $1500
Nightlife: 8 • Activity: 5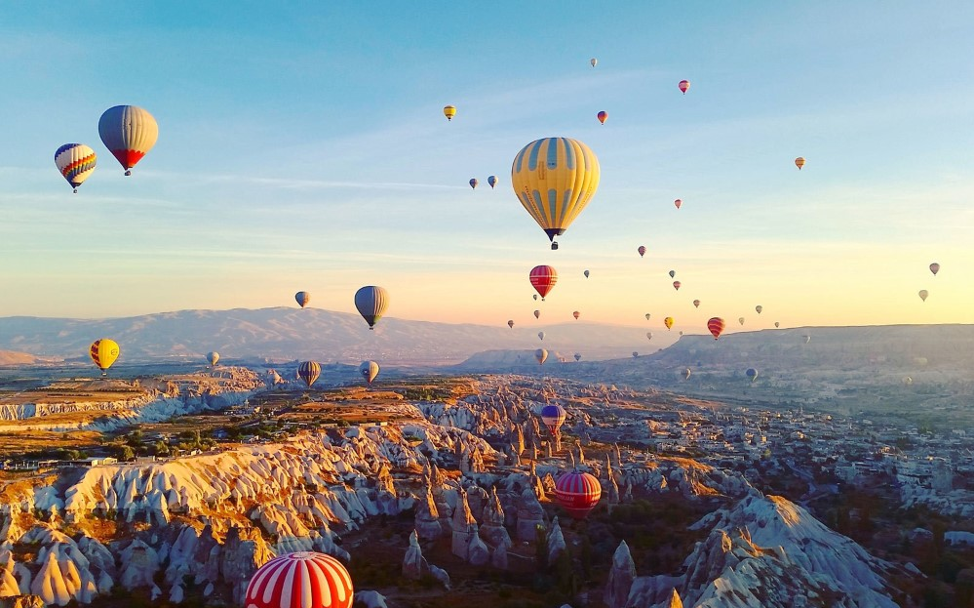 Hot air balloon rides over the Turkish countryside, incredible sites in the city where east meets west, and Greek beaches…need we say more? Blending the perfect mix of adventure, cultural immersion, and relaxing in the sun, there is no doubt you'll be telling stories of this trip to your grandkids one day. We'll start our journey in Cappadocia, where we'll explore underground cities and expansive landscapes and make sure you have the chance to capture some quality #content so that all of your friends at home know you're officially out of the real world for the next two years. Next we'll head to Istanbul, where we'll see all the sites your heart desires and experience the energetic nightlife of this historic city. We'll end the trip on the island of Crete where our time will be filled with beaches, wine, food, and boats. Get ready to have the time of your life and come back to school knowing you were on the best MTrek of them all.
Travel Day — Saturday, Aug 15
Survived orientation, the crisis challenge and your first Rick's? Check. Now it's time to download those TV shows you haven't had time to watch for the last 2 weeks and get ready to hop on a plane to Europe for the best 8 days of your life.
Day 1 — Sunday, Aug 16
Our adventure begins in Cappadocia (don't worry, we had trouble pronouncing it at first too), a Turkish city known for cool underground caves and houses. We'll get the wine and cocktails flowing during our welcome dinner, where we will start to get to know each other through some group icebreakers - we promise they'll be better than the icebreakers at orientation.
Day 2 — Monday, Aug 17
Rise and shine!! Today we are waking up before the sun rises for a hot air balloon ride over Cappadocia. If you're not a morning person and waking up at 4am sounds like the worst thing in the world, Google the hot air balloons and you will see that it will be worth it - you won't regret it. Plus, you'll still be jet lagged so we promise it will all be okay. We'll spend the rest of the day touring through the Cappadocia countryside, where we'll visit rock-cut churches, an underground city and earth pillars in the middle of a vineyard.
Day 3 — Tuesday, Aug 18
Travel Day! It's time to head to the city formerly known as Constantinople (aka Istanbul) for a few days of exploring and #culture. We'll spend the afternoon settling into the hotel, and then take a walk across the Galata Bridge at night. If you haven't seen Iman's dance moves by now, tonight you will when we hit the town and venture to some Turkish clubs.
Day 4 — Wednesday, Aug 19
Buckle up and get ready for some gram-worthy pics, because today's the day we explore Istanbul's famous sites. Kaia will make sure everyone's phones are charged before we go to bed so no need to worry about missing out on high quality content. First, we'll head to the Hagia Sophia which dates back to the 6th century and is regarded as the "eighth wonder of the world." We'll continue to the Blue Mosque, a break-taking building and one of the most majestic Ottoman mosques in all of Turkey. Then we'll visit the Grand Bazaar, one of the largest and oldest covered bazaars in the world. The Grand Bazaar is 30,700 square meters with over 60 streets and alleys and 4,000 shops - certainly a lot bigger than the Briarwood Mall back in AA. We'll have some time to rest up in the afternoon before going out for one of our theme nights!
Day 5 — Thursday, Aug 20
After a jam-packed day of touring, we'll take today to leisurely explore Istanbul and maybe hit up the Turkish Hammam. Here we can indulge in traditional Turkish foam massages to get you relaxed and ready for MBA recruiting - trust us, you'll need it. Make sure to bring your appetite because tonight we'll be eating our way through the Asian side of Istanbul, exploring this part of the city while eating the best street food eats.
Day 6 — Friday, Aug 21
Did you hear that? It's the sound of beaches and spanakopita calling because today's the day we're headed to GREECE. After we arrive at our hotel in Crete, we'll spend the day at the beach lounging under the Grecian sun. Trip dad JD will make sure everyone stays hydrated as we work on our tans because tonight we're headed out for another theme night.
Day 7 — Saturday, Aug 22
Nicely bronzed from the Grecian sunshine, we'll spend the entirety of today eating and drinking - need we say more?! First up is a cooking class that will be sure to accommodate even the kitchen n00bs of the group. Only ever made scrambled eggs in your life? Don't worry...our private chefs will leave you eager to replicate three course meals served by the ancient Greeks back in AA. We'll let the food settle before hopping over to a vineyard to sample Crete's finest wines. TBD if we make it out tonight...but we probably will if Cici has anything to say about it.
Day 8 — Sunday, Aug 23
We know what you're all thinking - how can we have an MTrek without a boat day? Fear not because today's the day we get to cruise around the waters of Crete to the island of Spinalonga. We'll spend the day drinking and swimming, followed by some more drinking. We'll end the day with a farewell dinner and look back at the jokes we've shared and the nights we may or may not remember. Then we'll rally for one last night out because what's MTrek for if not to condition you for the copious amount of drinking you'll be doing for the next two years?
Departure Day — Monday, Aug 24
You're sad, we're sad, we're all very sad, but today's the day we head back to Ann Arbor. Dry your tears because we'll have MTrek reunions soon and continue to keep the good times rolling into Fall A.