Trip Region: Europe
Country(ies): Greece, Turkey
Partners Trek? No
Trip Cost: $2520
Airfare Estimate: $1500
Nightlife: 8 • Activity: 5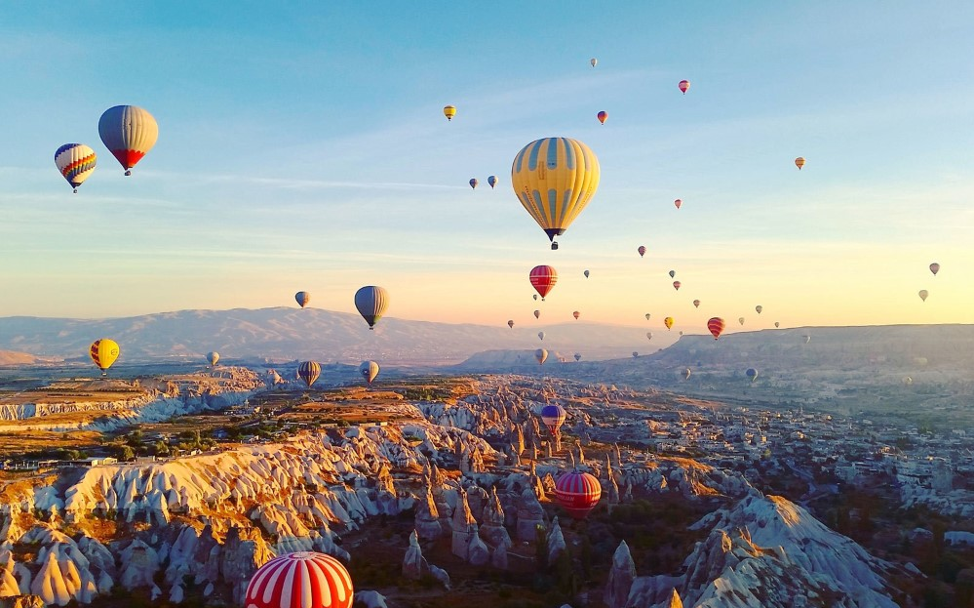 Hot air balloon rides over the Turkish countryside, incredible sites in the city where east meets west, and Greek beaches…need we say more? Blending the perfect mix of adventure, cultural immersion, and relaxing in the sun, there is no doubt you'll be telling stories of this trip to your grandkids one day. We'll start our journey in Cappadocia, where we'll explore underground cities and expansive landscapes and make sure you have the chance to capture some quality #content so that all of your friends at home know you're officially out of the real world for the next two years. Next we'll head to Istanbul, where we'll see all the sites your heart desires and experience the energetic nightlife of this historic city. We'll end the trip on the island of Crete where our time will be filled with beaches, wine, food, and boats. Get ready to have the time of your life and come back to school knowing you were on the best MTrek of them all.
Travel Day — Saturday, Aug 15
Survived orientation, the crisis challenge and your first Rick's? Check. Now it's time to download those TV shows you haven't had time to watch for the last 2 weeks and get ready to hop on a plane to Europe for the best 8 days of your life.
Day 1 — Sunday, Aug 16
Our adventure begins in Cappadocia (don't worry, we had trouble pronouncing it at first too), a Turkish city known for cool underground caves and houses. We'll get the wine and cocktails flowing during our welcome dinner, where we will start to get to know each other through some group icebreakers - we promise they'll be better than the icebreakers at orientation.
Day 2 — Monday, Aug 17
Rise and shine!! Today we are waking up before the sun rises for a hot air balloon ride over Cappadocia. If you're not a morning person and waking up at 4am sounds like the worst thing in the world, Google the hot air balloons and you will see that it will be worth it - you won't regret it. Plus, you'll still be jet lagged so we promise it will all be okay. We'll spend the rest of the day touring through the Cappadocia countryside, where we'll visit rock-cut churches, an underground city and earth pillars in the middle of a vineyard.
Day 3 — Tuesday, Aug 18
Travel Day! It's time to head to the city formerly known as Constantinople (aka Istanbul) for a few days of exploring and #culture. We'll spend the afternoon settling into the hotel, and then take a walk across the Galata Bridge at night. If you haven't seen Iman's dance moves by now, tonight you will when we hit the town and venture to some Turkish clubs.
Day 4 — Wednesday, Aug 19
Buckle up and get ready for some gram-worthy pics, because today's the day we explore Istanbul's famous sites. Kaia will make sure everyone's phones are charged before we go to bed so no need to worry about missing out on high quality content. First, we'll head to the Hagia Sophia which dates back to the 6th century and is regarded as the "eighth wonder of the world." We'll continue to the Blue Mosque, a break-taking building and one of the most majestic Ottoman mosques in all of Turkey. Then we'll visit the Grand Bazaar, one of the largest and oldest covered bazaars in the world. The Grand Bazaar is 30,700 square meters with over 60 streets and alleys and 4,000 shops - certainly a lot bigger than the Briarwood Mall back in AA. We'll have some time to rest up in the afternoon before going out for one of our theme nights!
Day 5 — Thursday, Aug 20
After a jam-packed day of touring, we'll take today to leisurely explore Istanbul and maybe hit up the Turkish Hammam. Here we can indulge in traditional Turkish foam massages to get you relaxed and ready for MBA recruiting - trust us, you'll need it. Make sure to bring your appetite because tonight we'll be eating our way through the Asian side of Istanbul, exploring this part of the city while eating the best street food eats.
Day 6 — Friday, Aug 21
Did you hear that? It's the sound of beaches and spanakopita calling because today's the day we're headed to GREECE. After we arrive at our hotel in Crete, we'll spend the day at the beach lounging under the Grecian sun. Trip dad JD will make sure everyone stays hydrated as we work on our tans because tonight we're headed out for another theme night.
Day 7 — Saturday, Aug 22
Nicely bronzed from the Grecian sunshine, we'll spend the entirety of today eating and drinking - need we say more?! First up is a cooking class that will be sure to accommodate even the kitchen n00bs of the group. Only ever made scrambled eggs in your life? Don't worry...our private chefs will leave you eager to replicate three course meals served by the ancient Greeks back in AA. We'll let the food settle before hopping over to a vineyard to sample Crete's finest wines. TBD if we make it out tonight...but we probably will if Cici has anything to say about it.
Day 8 — Sunday, Aug 23
We know what you're all thinking - how can we have an MTrek without a boat day? Fear not because today's the day we get to cruise around the waters of Crete to the island of Spinalonga. We'll spend the day drinking and swimming, followed by some more drinking. We'll end the day with a farewell dinner and look back at the jokes we've shared and the nights we may or may not remember. Then we'll rally for one last night out because what's MTrek for if not to condition you for the copious amount of drinking you'll be doing for the next two years?
Departure Day — Monday, Aug 24
You're sad, we're sad, we're all very sad, but today's the day we head back to Ann Arbor. Dry your tears because we'll have MTrek reunions soon and continue to keep the good times rolling into Fall A.
Cici Pandol - VP of Hangover Recovery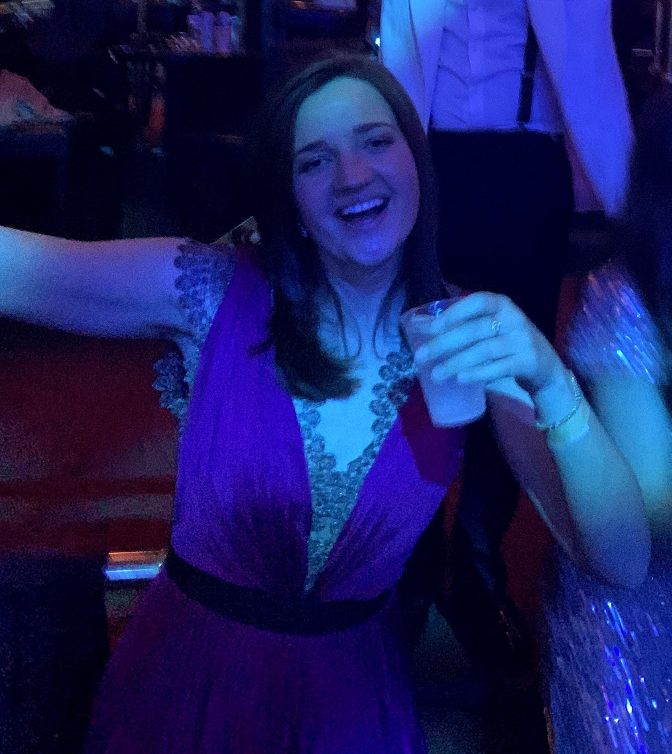 Hailing all the way from Bakersfield, CA (the Istanbul of Southern California) this East Coast transplant is as sweet as her family farm's cotton candy grapes. After majoring in "leadership studies" (a real thing? maybe?) at the University of Richmond, Cici took on NYC, where she worked at siggi's. She's taking her talents to the Bay Area this summer for a brand management internship, where she'll definitely be doing enough outdoor activities to make you feel bad about yourself. This marketing guru might've taken a hiatus from going out pre-Ross because she was busy training for marathons or something, but party Cici is back with a vengeance and rumor has it she's never missed a Thursday Skeeps. That said, her uncanny ability to know when it's time to go home sets her apart from the rest of us and means that you might have a shot at making it out of this MTrek alive. When she's not posting IG Stories of her cat Natalie, Section 4's "Official Hype Man" can be found giving GroupMe pep talks, heating up the dance floor, or downing beers like they're water. She'll be the one to make sure you're hydrating responsibly (with double vodka sodas).
John "JD" Daniels - VP Zaddy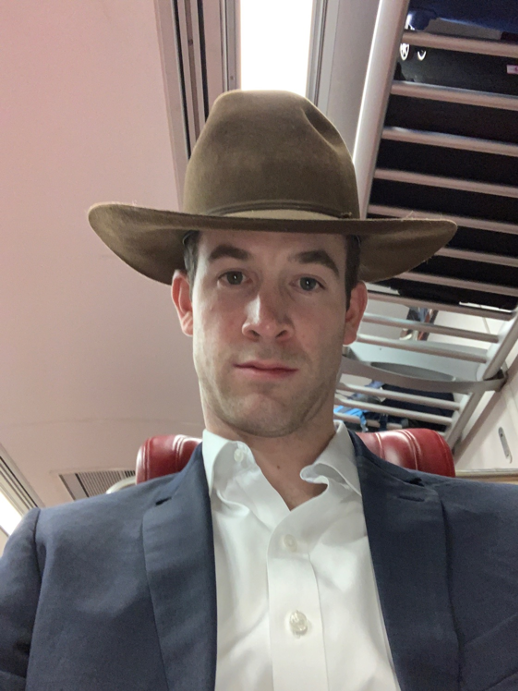 Even though JD will introduce himself as "John Daniels," feel free to disregard that and just call him JD – or as he describes – "what my friends call me." Despite his unadulterated love of all things New England, JD actually turned out to be a top tier human being whose presence in our lives is truly a blessing. Even though JD rounds out a variety of Top 5 lists at Ross (whether in his athleticism, his willingness to boogie, or the definition of his cheekbones), his humility describes his best quality – except when he refers to the Patriots as "America's underdog." Whether he's maintaining his reign as King of the Dartmouth Pong table or if he's got his phone out and furiously taking photos to try and up his insta post/day from .0001 to .0002, you can rest assured that JD will be embracing his role as Team Dad by regularly checking in and prioritizing our trekkers' experiences. But don't go to him for any pop-culture references – according to his wife, she maintained a list of shows and words that JD didn't know. Some great ones include: Spunky, Birkenstocks, and Fennel.
Kaia De Bruin - VP of #Content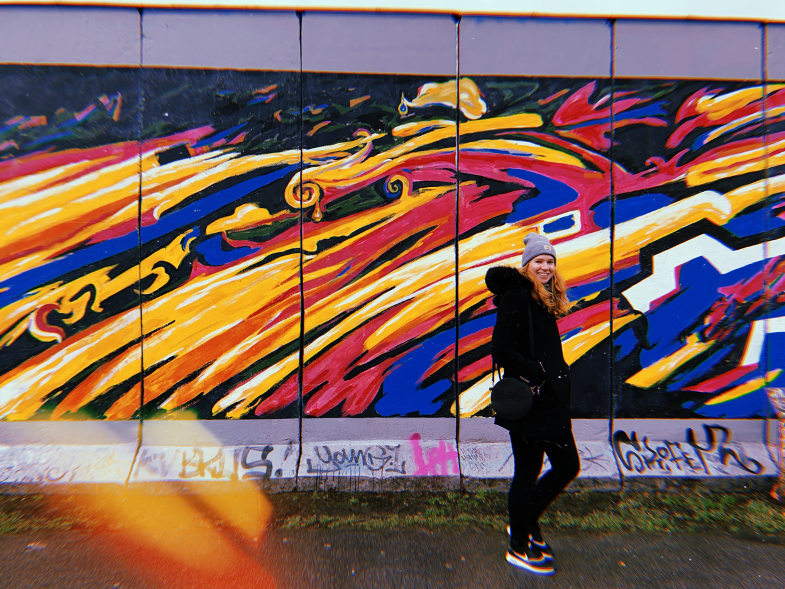 Kaia may not be part of Gen-Z officially, but she's definitely cooler than you. Our resident VP of #Content, Kaia is our go to girl for what's "new" and "hip", including the best restaurants in her native Brooklyn, NY and whatever new app the young kids are on these days (Ding Dong? Clip Clop?). Put her on your trivia team for pop culture knowledge and you're sure to win. The founder of the thriving "Redheads at Ross" GroupMe, Kaia did her research to ensure all members were natural redheads and not fakers, showing she is both fun AND detail-oriented, a perfect combo for an excellent MTrek leader. Go to Kaia if you're looking for the ideal backdrop for your next Tinder pic, especially in Greece because she's already been there like the cool girl she is. Kaia is also a proud member of the New England Small College Athletic Conference and is thankful Michigan will never play football against her first love, Bates. Oh, and she interned in marketing at Pepsi in New York this summer because #duh, it's the perfect job for her.
Iman Shakeri - VP of Tough Questions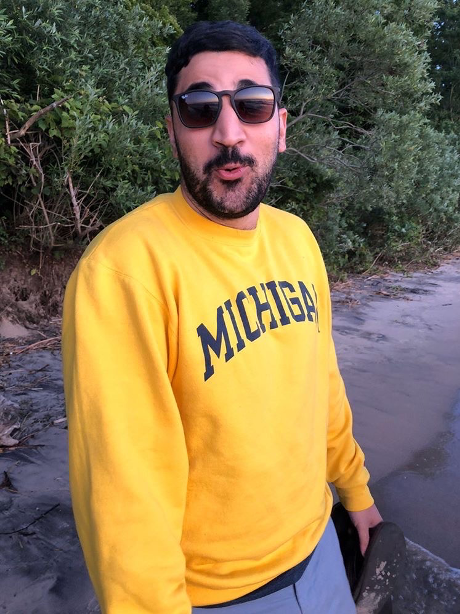 Iman Shakeri, a self-proclaimed Dr. Seuss enthusiast, is a world-class conversationalist and dog-dad, and brings kindness, astuteness and all-around positive vibes to this year's trip. If it existed, Iman would unanimously win Ross's Most Likely To Do Good award and has never told a lie in his life…if you exclude the report card grade-altering habit he didn't kick until the 8th grade. This past football season was an exciting time for Iman, when he got to purchase and brush the dust off his Tennessee Titans gear and cheer publicly without shame during the traditionally mediocre team's playoff run. Last summer on his MTrek in Vietnam, Iman ensured that the ending to each day was a happy one, and could frequently be found on the dance floor covered in sweat with his shirt half unbuttoned, a scene often repeated on campus during Michigan BUS pre-games. Iman will serve as the group's VP of Tough Questions, so buckle up if you're in the Hot Seat, because it's going to be a wild ride!
Ali Frieder - VP of DJing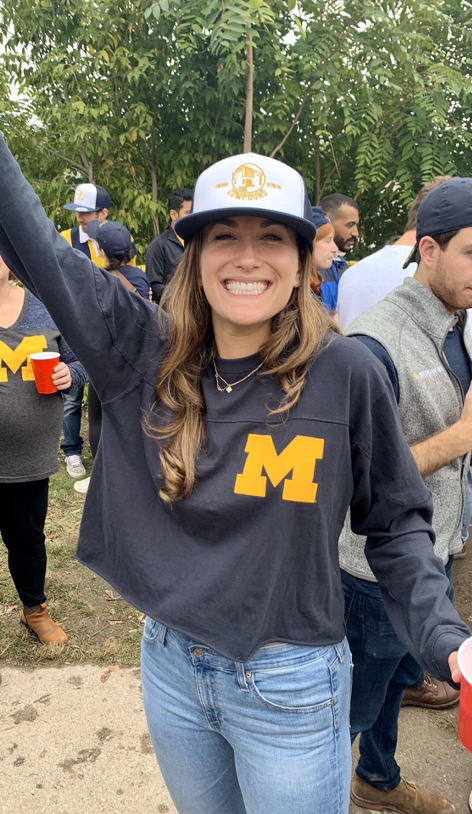 Raised in the Great State of New Jersey (#GTL 4 lyfe), Ali graduated from WashU with a bachelor's degree in international studies and intends to leverage that degree for the very first time in planning this MTrek. Ali has spent her career improving healthcare with technology and plans to continue doing so because she is genuinely a good person (cough unlike JD cough cough). We looked for negative things to say about Ali, but her close friends were either unwilling to speak with us or disappeared mysteriously. We did get ahold of her twin sister, Jess, who confirmed that Ali is indeed the evil one of the two. In all seriousness, Ali is one of the most caring and reliable leaders a trekker could ever ask for, and is always down for anything. Whether you are looking to crush beer towers until 4am or enjoy a relaxing night in, Ali will be by your side with a warm smile on her face. In her free time, Ali spends copious hours cultivating tracks for you to dance to and will be sure our bus rides will never be without some bangin' tunes.
Jacob Howard - VP of Party + Finance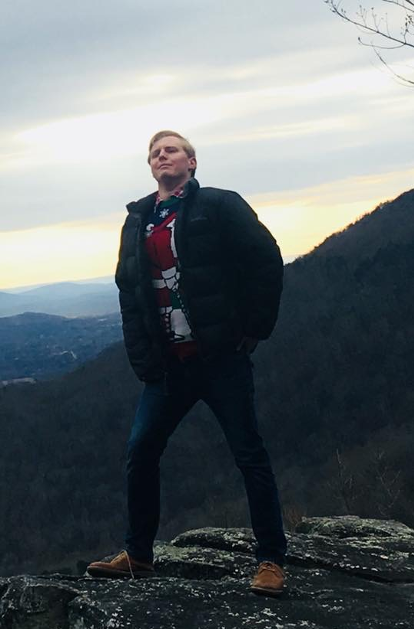 This Tennessee native and former Hoosier has found his way to the Midwest for the second time in his life and is back and better than ever. Jacob is our golden-haired boy and "yes-man" of the group, who is down for anything including eating the exotic street food no one else dared to try. When he's not buying another round of shots at Skeeps, Jacob can be found buying another round of shots at Rick's, or in his hotel room with the Jack Daniels from the mini bar. Besides offering him another drink, the way to Jacob's heart is to mention how great his luscious blonde locks look – he'll try to deny it but we know his suitcase is always filled with hair products. Hot off a summer getting wined and dined in the consulting world, Jacob will make sure the party follows us wherever we go while keeping track of our trip's finances because someone needs to be a little bit #responsible