Trip Region: MYSTERY
Country(ies): MYSTERY
Partners Trek? No
Cost: $3800
Airfare Estimate: $
Structure: • Lodging: • Nightlife: 8 • Activity: 7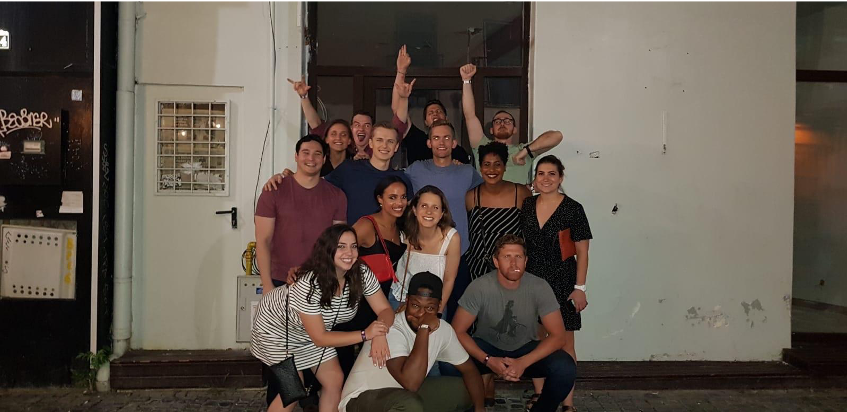 Life has given you two choices: 1) Be average and go somewhere average [any other trek where you know the destination] OR 2) Be a BOSS and join a long line of venerated secretive individuals. Clearly, there is only one correct answer here.
The infamous "Mystery Trek" is the ONLY MTrek where trekkers show up at the airport not knowing where they are going, and destinations are revealed as the trip progresses. If you are an "early to bed early to rise" kind of person, this might not be your trip.
We feel like we shouldn't have to sell mystery because this is the only MTrek that self selects people who love adventure, clurbing, and the unknown. If you like plastic chair restaurants, dive bars, and off the beaten path activities: this trip is for you. If you like five star hotels, a classic martini bar, and traveling first class, please call us back in 2080 when we've all paid off our student loans.
If you choose to join Mystery, you will forever be inducted into the Mystery family.
Quiz: IS MYSTERY FOR YOU?
Instructions: Grab your favorite pen and the nearest napkin (no, not the one with Cholula on it, that's gross) and get ready to tally.
Do you get anxious when people talk about "the plan"? (News flash, kiddo. There is never a plan. #doinitlive)  [Y/N]
Have you ever thought to yourself (while drinking a few casual shower beers), "Self, tonight is gonna be LIT"? [Y/YN]
Did you ever have that nightmare as a kid that your greatest legacy would be a B+ on a World Geography test and $14.67 from a lemonade stand? [Y/N]
Have you ever been banned from a glamping site in the desert? [Y/N]
Do you like piña coladas? And getting caught in the rain? [Y/N]
Have you always wanted to just let it go? LET IT GO? CAN'T HOLD IT BACK ANYMORE?! [Y/N]
Have you ever moved to the city in a broke down car but now you're looking pretty in a hotel bar? [Y/Y]
Do you ever get that Summer Time Sadness and just want to get away? [Y/N]
Are you ready to have the time of your life while meeting some incredible (and incredibly bizarre) humans that will shape your Ross experience and make every day a little bit sunnier? [Y/N]
Did you answer YES to 7 or more questions? CONGRATS. You're mystery material, and we can't wait to meet you.
Day 1 — Saturday, Aug 15
Travel day.
Day 2 — Sunday, Aug 16
Mystery.
Day 3 — Monday, Aug 17
Wouldn't you like to know.
Day 4 — Tuesday, Aug 18
Think again.
Day 5 — Wednesday, Aug 19
We will never tell.
Day 6 — Thursday, Aug 20
If you know the NPV formula by heart, we'll give you a clue.
Day 7 — Friday, Aug 21
Your guess is as good as ours.
Day 8 — Saturday, Aug 22
Nice try.
Day 9 — Sunday, Aug 23
We will be back in Ann Arbor on August 24.