Trip Region: Eastern Europe
Country(ies): Albania, Montenegro
Partners Trek? No
Cost: $2190
Airfare Estimate: $2000
Structure: • Lodging: • Nightlife: 8 • Activity: 3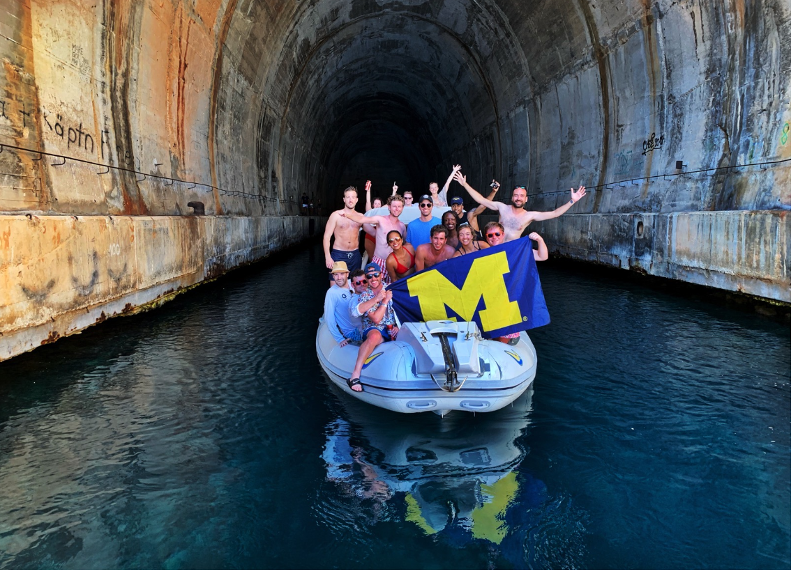 Every other MTrek will claim to be the most fun and have the best crew… but we can prove it. Last year, in what was reportedly "not even a close competition," we won a $500 bar tab for being BSchool Travel's #1 rated MTrek. This year we're going one country over and running it back. Beaches, boats, and bars – any MTrek can do that (and c'mon everyone's already been to Croatia, Greece, and Spain). We'll be taking it to the next level by raging through the Albanian Riviera and home of Casino Royale (Montenegro) where we will enjoy bottle service on the beach, explore Montenegro's finest vineyards, speedboat through war tunnels, and get Medieval shooting archery in the mountains. Between Top Hill (former #1 nightclub in the world), city and food tours, and national park adventures, you'll have a wild time and experience just enough culture. Our trip tearing up the coast will culminate in the biggest, multi-trek, private catamaran party of MTrek 2020! Join us and help bring back the title of best MTrek 2020 – we promise you won't regret it.
To get an idea of what you're in for, check out @BallinInTheBalkans on IG.
Day 1 — Sunday, Aug 16
Arrive in Albania and reflect on having made the best decision of your life. Located between Montenegro and Greece (right across the Adriatic from Italy for those who haven't pulled up Google maps yet), Albania is truly a hidden gem of the Mediterranean. Once you arrive you'll check in to our first hotel, kick your feet up and get ready to meet your future best friends. On our first night together we'll enjoy a welcome dinner as a group before heading out to "explore" Tirana after dark (read: bottle service at the best club in Tirana). Make the most of your three hours of sleep, because tomorrow is a big day of exploration and sampling the food, wine, and culture of Albania's capital city.
Day 2 — Monday, Aug 17
After a "full night of rest", you'll be ready to embrace a walking tour of Tirana to ease into local life. After learning about Albania's rich history, we'll embark on an afternoon of local exploration. Our tour features Dajti Mountain, fit with a guided tour and cable car rides to make sure you have the best Insta to carry on our legacy of winning BSchool Travel's competition! Having worked up an appetite touring the city, we'll spend the afternoon experiencing a full food tour and cooking class to wrap up a day of Tirana culture.
Day 3 — Tuesday, Aug 18
Roll out of bed, chug your Pedialyte and get on the Bus! We'll nurse our hangovers in comfort from our private coach while we enjoy the beautiful views of the Albanian Riviera on our way north to Montenegro. Don't forget your phone - we'll stop for some Insta-worthy shots along the way. Don't worry about adjusting to Kotor, our hotel is 5-stars, located in the UNESCO-protected Old Town Road (I mean Square), and home to the infamous nightclub Maximus.
Day 4 — Wednesday, Aug 19
If you came on this MTrek to jump off of some boats repeatedly, today is your day. We'll spend the day cruising around Boka Bay, exploring Soviet submarine tunnels, and island hopping. This day is BYOB so start planning your Icing strategy early. Don't worry, if you don't perfect the whole jumping off a boat without dunking your beer underwater thing (you're in good company, Mills is still working on this) then you'll have another chance as this is just one of two boat days on the itinerary.
Day 5 — Thursday, Aug 20
Have you ever wanted to hold dangerous weapons while mildly tipsy? Welcome to National Park day! Today we'll head to beautiful National Park Lovcen after a proper ham and cheese breakfast to fuel up for another day. For those up for an active challenge, optional activities include archery, ATV rides, or a leisurely hike to ensure you sweat out your sins from yesterday. We'll then make a stop in the Old Royal Capital of Cetinje so you can get your ~*cUlTuRe*~ on before checking in at our next 5-star hotel in Budva.
Day 6 — Friday, Aug 21
Just as you come to the realization that you have the permanent shakes, today we tackle a private table at one of the best beach clubs in Budva, Ploče Beach, with €1,000 to burn. Ring...ring! Zach, the former Prince of Hvar's Hula Hula will reveal himself again, so get ready for a full send day. Since we're MBA 2's we don't do math anymore, but if we carried the 1 correctly, it sounds like we have some serious work to do to get through that tab. Aside from a personal security guard to protect our booze, this place touts an "American Lunch" - so get ready to get your tendie fix 5 days in.
Day 7 — Saturday, Aug 22
Saturday is Sean and Mills' favorite day. As members of the Wolverine Wine Club executive board, they will lead us (get led) around two of Montenegro's most famed wineries. We will start at the Sipcanik Winery built into an old military bunker in the hills. Not only will we enjoy wine and views over the river, but we'll also gorge on a 3-course feast and 5 wine tastings led by a professional sommelier (Sean?). After a big lunch and good buzz, we'll move on to the Kopitovic Winery which was founded in the 15th century and is still cranking out world-class wine and grappa. After a long day of vino, we'll head back to Budva for more beach and pool, and another big night out at La Roca.
Day 8 — Sunday, Aug 23
Sup Boat Day #2? This is what MTrek's are made of. To make this trip as extravagant and memorable as possible, we are charting the luxurious Tahiti 80 Catamaran Yacht to cruise the Adriatic one last time. Not only will we have an open bar for the whole 4 hours, but we'll be meeting up with another MTek full of your new best friends from orientation just a week ago. Here we'll regale and shock them with stories of our trip - or at least what we remember of it. Back at home base, we'll have a big farewell dinner at Torch Restaurant overlooking the waterfront before full-sending it one last time.
Day 9 — Monday, Aug 24
Roll in from the club, throw your clothes in your suitcase, and jump on the private shuttle back to the airport with your new best friends. And then lie in the fetal position for 3+ days with crippling anxiety and question whether coming back to the US is actually a good idea.