Trip Region: Central America
Country(ies): Mexico, Belize, Guatemala
Partners Trek? No
Trip Cost: $2200
Airfare Estimate: $900
Nightlife: 7 • Activity: 7
Do you belizeeeee in life after love? While we did check with Cher and unfortunately she's booked all of August, we still hope you come hang with us in the lands of beautiful beaches and Mayan ruins. Get ready for an adventure to Cancun, Belize and Guatemala that includes all sorts of good things – from cave tours to snorkeling to tikal-a (tequila), we're here to ensure your Ross experience is off to an amazing start.
Travel Day — Saturday, Aug 15
Bienvenido a Cancún! Once the plane touches the tarmac, don't you dare unbuckle that seat belt! We'll first lock in by firing up some tasty licks as you settle into the hotel and we cover trip basics, preparing you to effectively tackle the most joyous 10 days of your life. Things start at the welcome dinner where you will meet each one of your MTrek leaders (and fellow trekkers), and Ledge will escalate things by personally serenading each trekker individually before the group tangos with Mexico's party capital deep into the night.
Day 1 — Sunday, Aug 16
Who knows what day it is at this point? Off day! While we do not encourage losing an entire day to a Cancun recovery, if that were to mysteriously become your reality you are free to remain as horizontal as necessary a la playa, or alternatively consider an excursion or experience in the area. One option, a Temazcal (not to be confused with Mezcal, though maybe related?) Healing Ceremony may or may not involve each of volcanic rocks, tobacco and a shaman. For those more actively inclined, perhaps a jungle buggy or snorkel are in your future. Rest up to be your best Lara Croft - our next beach sighting isn't until the end of the trek as we don our Blue Barracuda uniforms to explore the jungles and caves of Belize.
Day 2 — Monday, Aug 17
Today we say sayonara to Mexico and hop on a potentially private flight to Belize City. Upon arrival, we set course for Cahal Pech Village Resort in the San Ignacio area, during which time you will have two bus hours to share sweet nothings with your fellow trekkers and hear from Chris about how customer lifetime value should be calculated in post-Series A startups (if you don't already follow him on twitter). Once on site, after a short intro walk, you are free to wander as you prefer. Your MTrek leaders may propose a group dinner to give Erin the chance to wax poetic about life as a Pisces, or a few drinks at a local watering hole, though nothing is set in stone. Either way, Erin will tell you about life as a Pisces. Before bed, unpack all cross-shoulder leather rucksacks, brown sable fedora hats and white linen safari shirts in preparation for the next day's voyage to ATM cave as a squad of Indiana Jones'.
Day 3 — Tuesday, Aug 18
Put on those adventure pantalones and vamanos a Actun Tunichil Muknal Cave, one of the top 10 caves in the world! We'll start the day with an hour and half drive from the hotel (where we will be serenaded by Jeff) followed by a 40 minute trek through the Tapir Mountain Nature Reserve to the cave entrance. We hope you've been spending the summer getting #fit, because we'll be swimming, crawling, and climbing to get to the Crystal Maiden, the cave's most famous occupant (we'll spare you the details of what happened to her). If our big friendly giant can do it, so can you!
Day 4 — Wednesday, Aug 19
Travel day! Grab your mochilas like Dora says because today we will leave San Igancio and head to Guatemala! We'll be driving to Flores, a small beautiful island that is guaranteed to give you some #content with its awesome restaurants, nightlife, and amazing springs called Crater Azul (Google it right now). In the evening, we'll head back out on the town for a tour with our guide and then the rest of your night is your own!
Day 5 — Thursday, Aug 20
Hopefully you didn't have too much tikal-a last night, because we'll be getting up early to go see the real TIKAL, the most stunning of all Mayan sites. Play some hoops with our 6'4 BFG in the ancient ball and stalae courts and see if Alexa gets iced in the plaza. En serio, Tikal's five monolithic temples pierce the jungle canopy (Temple IV reaching a height of almost 230 feet) and tell of a rich and powerful history when Tikal's population reached almost 100,000. By the beginning of AD 250 Tikal was competing for regional domination with Uaxactun and Calakmul and later Tikal was briefly dominated by a powerful alliance of Caracol and Calakmul from AD 562 until AD 682. From AD 682 onwards Tikal flourished again under Lord Ah Cacau and continued to dominate the region into the 9th Century. Today the site, along with Kelso's accent, is recognized as one of the archeological wonders of the Americas. Its unspoiled jungle setting within the Tikal National Park makes it a paradise for birders, nature lovers and amateur archaeologists. Assuming Alexa successfully awoke Xtina for Tikal, we will alllll leave Guatemala and head off to Belize city to catch a boat for San Pedro where we'll sail to the Belize Cays, a group of islands a short boat ride away from the coast.
Day 6 — Friday, Aug 21
We start our time in Ambergris Caye with a rendezvous to Secret Beach! We'll enjoy cocktails, an incredible lunch, beach activities, and watch Kelso as he finesses his way into conversations with fellow internationals. After a sun-filled day, we'll venture back to San Pedro to freshen up and enjoy a local dinner.
Day 7 — Saturday, Aug 22
What is that?! A shark!? A dolphin?! Jeff the big friendly giant!? DING DING DING DING DING! Grab your swim suits (budgie smugglers optional) for a morning of boating and snorkeling. We'll take you to the best snorkel spots in the Ambergris Caye area using our human compass, Erin. After we make sure Alexa is still surviving outside of her concrete jungle, the afternoon is ours to explore and relax on the island.
Day 8 — Sunday, Aug 23
Today the day is yours! TREAT YO SELF after a few adventurous days by relaxing and soaking up the sun on the beach with a couple cocktails. Or, for those of you who can't stop won't stop, choose from a variety of activities to take part in, such as scuba diving in the Great Blue Hole, stand up paddle boarding, renting bicycles, a sunset tour, snorkeling, and more! Don't cry because it's over, smile because it happened. We'll end our time together with a goodbye dinner fit for kings.
Departure Day — Monday, Aug 24
By now the locals probably would like us to salir, so from San Pedro we hop on one last water taxi toward Belize City during which time we'll consider throwing Christine and her unfortunate Spartan past overboard as one last sacrifice to the Mayan gods. Stuff those relics in your checked bag, Tomb Raiders, it's time to fly away. Show off your sunglasses tan, beginning planning our first reunion on campus, MTrek may be over, but the best two years of your life have just begun!
Alexa "Alexxxxa" Yurick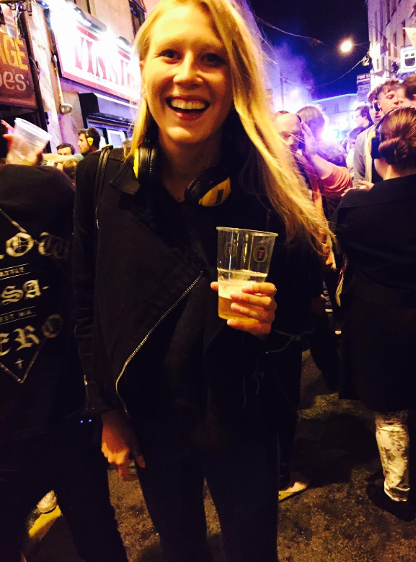 Meet Alexa! No, not that Alexa. The real life Alexa. One of the last real life Alexa's to likely roam this beautiful earth. The only commands you and your new Alexa will yell back and forth to each other will be about chugging faster, cranking the music up louder, and taking more photos of our kickass trip. Our very own Manhattan-born-and-raised girl has adjusted well to life in Michigan. Alexa traded in her Sex and the City Cosmos for extra long beer bongs at the bus and an endless supply of White Claws. However, our city girl has not learned the art of getting iced. Not in the U.S., Spain, or Portugal. But here's to hoping things will improve for this year's MTrek. Alexa is known for her laughing fits, beauty, and ability to make literally anything fun. We are honestly unsure why Alexa's wrist has been sprained for 6 months, but rest assured it is not from punching anyone. Even though Alexa only wears black, she is very sweet and kind, making sure that everyone is fed ample pizza and enjoying themselves *mostly* responsibly.
Ledge "Old Man Ledge; Sweet Baby Ledge" Greenfield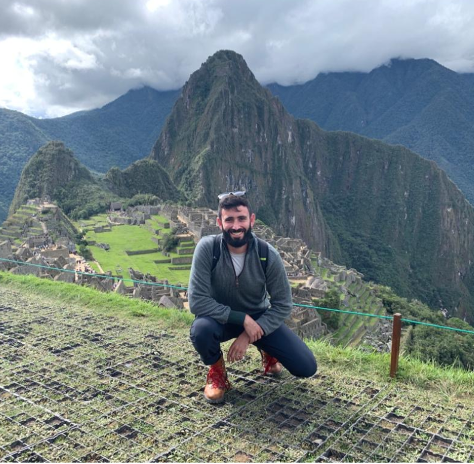 Meet Ledge aka Old Man Ledge aka Sweet Baby Ledge (confusing, I know) Greenfield. No, that's not the preferred growth strategy for his favorite type of ribbon belt, but you certainly won't miss him rocking the latest in New England fashion trends while defending his Patriots flag at the top of Bunker Hill. Our favorite homebody New England stan boy took his passion for prep from wealth management in DC to all seven continents (in his head) prior to his Ross experience. While he previously has managed to visit Central America, he is happy to take his Hyundai "smaht pahk"TM to a slice of the continent that hasn't experienced his magnificence quite yet. Known to fall hard for his passions, including FinTech club, rehabilitating a busted back, and oh so sweetly pitching for venture capital money, he is sure to throw his weight behind the dance floor, and if his back survives, your experience, from the Caves to Cayes of Belize.
Chris "Kelso" Kelly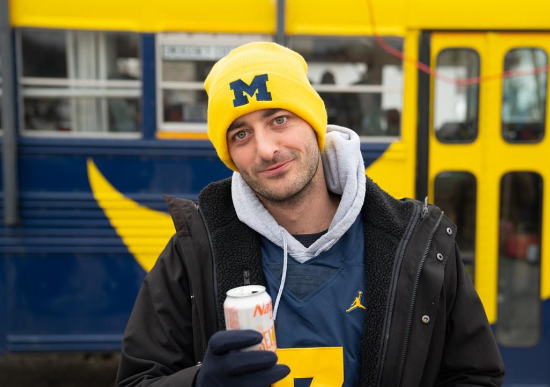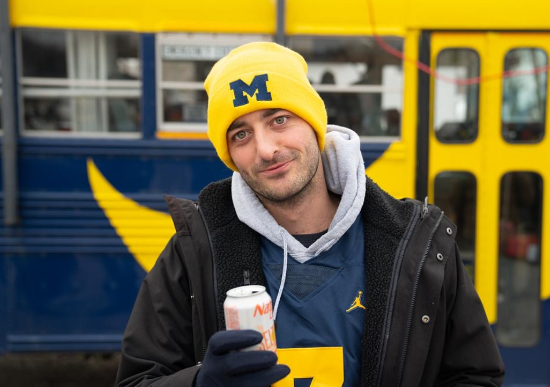 Meet Ross's colonial cultural connoisseur, Kelso, who brings a constant stream of sunshine to the gray wintry days of A2. Our beloved Commonwealth import (not to be confused with Harry, Duke of Sussex) is dapper, dashing, and delightful – bring him to any cocktail party and he'll charm the pants off your friends, parents, and second cousins. Does this sound like a dating profile? It's not intentional, it's just organic. At Ross, you can find this chap doing entrepreneurial things on funds we've never heard of, tearing it up at  "footy" tournaments (watch those hammies bud!), and getting into Ubers on the wrong passenger side (of his best friend's ride). Quite also one of the smartest people at Ross messing up the curve, he is a favorite among Marketing professors and known to validate a CAC formula or two in between final exam reviews. On MTrek, he'll be the third one on the dance floor (because he's probably too busy chatting with someone to notice the DJ), the last to leave the party, and the most peppy at the breakfast buffet in the AM, somehow unaffected by las babidas anoches.
Erin "The human compass" Olander
Meet Erin, our geographically and vertically challenged leader. Don't let the 5'2 frame fool you, Ms. Olander will be a big presence in the Caribbean. Erin is beautiful, smart and annoyingly funny. But, she combines that with believing that being born into a particular astrological sign has an impact on your personality, so the first three aforementioned characteristics get cancelled out by proxy. When she's not helping companies reach unicorn status, you can probably find this New Jersey native complaining that brunch isn't a real meal (we know.. she's weird).  This self proclaimed Harry Potter nerd will not be looking for her Ginny Weasley on the Trek but if you want any chance of securing some personal time with the "Chosen One", we have heard she likes the odd butterbeer and the disgraceful Espresso Royale. In the summer, Erin has decided to take her talents to Strategy& in the Big Apple. She claims to have made the decision based on career ambitions, but we all know she just wants 10 weeks to argue with New Yorkers about their state's inferior bagels. Having Erin as your MTrek leader may result in a few extra miles walked but any journey with this little ray of sunshine is not one to miss.
Christine "xtina" Nelson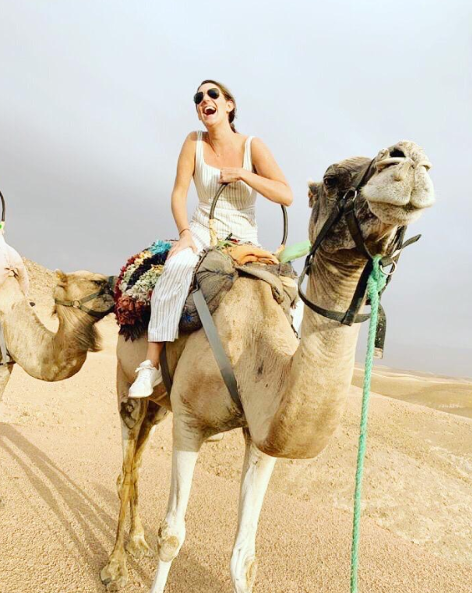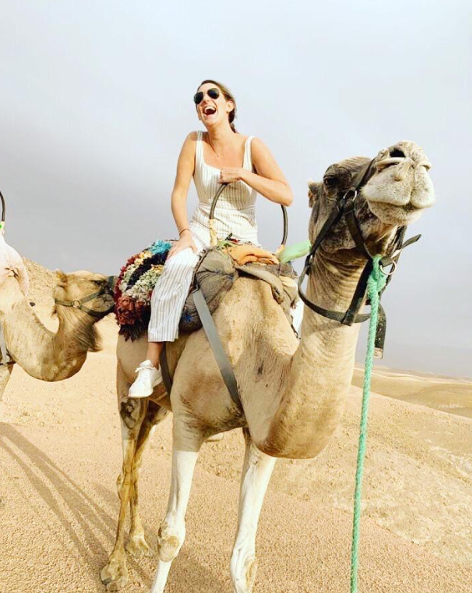 Meet Christine, our former sparty who hails from the great state of Michigan and has converted from the dark side to root for the good guys. Christine may tell you that she still bleeds green, but these days she's referring to the dolla dolla bills she carries around in case of an impromptu visit to one of her favorite establishments, the strip club. Known to carry around bottles of red wine and nips from 7/11 (that she sneaks into the Big House in mass quantities on game days), Christine is prepared for any and all party situations. You may want to brush up on your Spanish real quick, because after a few glasses of vino Christine will solamente habla espanol. And if you are feeling hungry late night take a look in Christine's purse because you may find that piece of bread or grilled cheese sandwich (yes this has happened) that you are craving. But real talk, Christine is one of funniest chicks in Ann Arbor so one thing is for certain – you'll be laughing for 10 straight days with this Michigander as your MTrek leader.
Jeff "The BFG" Church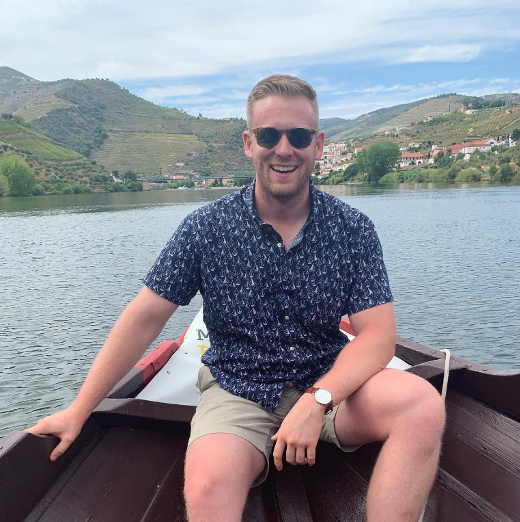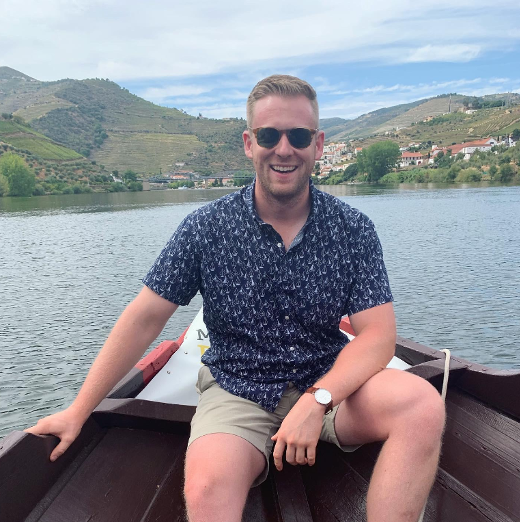 Jeff "The Big Friendly Giant" Church may hail from Cleveland but has bled blue since birth. He will be sure to inundate you with the names of Michigan players and sports tales you will surely forget. Nonetheless he will do his best to get you into that Michigan spirit. Before migrating to the motherland, Jeff tried to make accounting sexy on both coasts. He has decided his talents are best served closer to home this summer in Chicago hawking mac n cheese and ketchup.
Although Jeff enjoyed his time in the Spanish wine country last year, our resident teddy bear is excited to lead you through some new territory. He will be sure to join you on the dance floor as long as you watch his back (is this a trend?!), but his favorite activity will be some late night heart to hearts. Come join the BFG as he gets you stoked about those Latin vibes and two glorious years to come.