Trip Region: Central America
Country(ies): Costa Rica & Panama
Partners Trek? Yes
Trip Cost: $2485
Airfare Estimate: $900
Nightlife: 3 • Activity: 3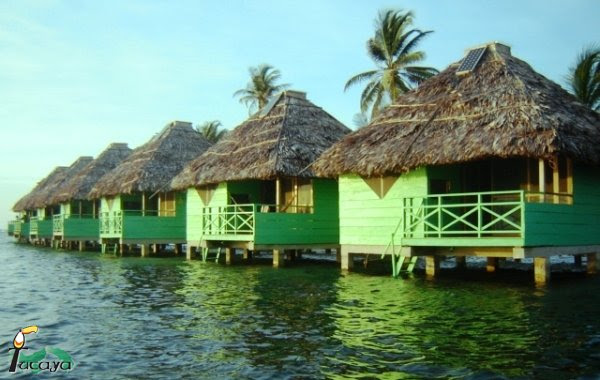 Hello? It's me. I was wondering if after all these years you'd like to meet.
To go over everything, they say (San Blasted) is supposed to… Rock your body! Yeah, yeah. everybody, yeah, yeah. Mtrek's back ALRIGHT!
We've got our toes in the water, toes in the sand
not a worry in the world, a cold beer in our hands.
And can you feel the love tonight? It is where we are. It's enough for this wide-eyed wanderer, to…
wanna rock and roll all night and party every day!
If you threw your hands up because we're playing your song, and the butterflies flew away (and if you understood what we were trying to do there) then you have found the partners trek you are destined for! Before moving to Ann Arbor, put your trust in us for 9 days and we promise you will have the best time of your life. Get ready to soak up the sun, zip line through the rainforest, repel down waterfalls, and have a blast exploring Costa Rica. After all the excitement of Costa Rica, imagine stepping back into a time before wifi, emails, and even *gasp* Snapchat. This, my friends, is the beauty of San Blas: a string of remote private islands that boast pristine white sand beaches and crystal clear water for snorkeling, swimming, and island hopping.
After all, what is more romantic than spending time on a remote private island with your significant other? You guessed it…spending it with a handful of your new BFFs!
Day 1 — Sunday, Aug 21
Arrive in San Jose in your party pants to get ready to meet your fellow trekkers and new BFFs. Settle into the hotel, and if you're feeling energized, venture out for a coffee plantation tour or brewery visit before the first group welcome dinner. We'll toast a few (or many) to the beginning of our Central American escapade.
Day 2 — Monday, Aug 22
Arenal: We'll start the morning driving out to Arenal for a fun filled day of volcano spotting and seeing the local towns. Hot springs will be available for some detoxing, then dinner and drinks will be on our own. We'll see where the night takes us!
Day 3 — Tuesday, Aug 23
Arenal: Get your cameras out and your gym shoes on! We will be flying high above the trees of Costa Rica on our sky trek, sky tram and zip lining adventure. Lunch will be provided during the activity and then we will have the evening free to explore on our own.
Day 4 — Wednesday, Aug 24
Arenal: We will start the day soaking in the local culture with a guided tour around the town. We will spend the second half of the day waterfall repelling in the Lost Canyon and making multiple Bachelor-like analogies of how love is similar to repelling down a water fall. "Repelling down the waterfall is just like falling in love- a little scary but worth it in the end."
Day 5 — Thursday, Aug 25
Panama City: Today we will fly to Panama City, the "Manhattan that's been slapped with hot sauce." We will explore this steamy, tropical town by starting off in Old Panama City. Where the night takes us is up to us! Tonight's the night we will see your true party face.
Day 6 — Friday, Aug 26
San Blas Islands: Today's the big day! After nursing hangovers and downing a monstrous breakfast we will embark on the second leg of the trip and the best three days of your life. We are headed to San Blas, a semi remote island chain off the coast of Panama where days will be spent snorkeling, swimming, and soaking up the sun. Imagine a turquoise archipelago with white sand and waving palms, these Caribbean islands cheat no one's version of paradise.
Day 7 — Saturday, Aug 27
San Blas Islands: In the morning we will visit the local Guna community, meet the indigenous Indians known as Kuna's or Guna's, and try the local Kuna food. Spend the afternoon swimming, snorkeling, napping, day drinking, island hopping…you name it, we can do it!
Day 8 — Sunday, Aug 28
San Blas Islands: Today, the world is your oyster. Wake up in paradise and do whatever your heart desires. Tonight we will reminisce on the best week of your life before forgetting it all on our last night together.
Day 9 — Monday, Aug 29
With a heavy heart, we will leave Panama City for Ann Arbaugh where school, recruiters, Saturday khakis at the bus, and Ricks inevitably awaits.
Team Everyone Loves a Canadian, Eh?!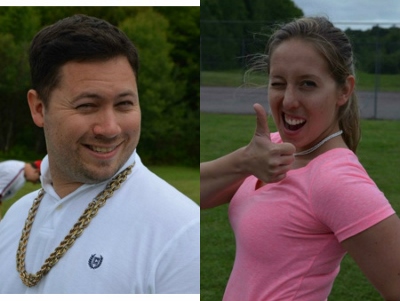 Jess
On MTrek you'll find me: Having somehow convinced you to have one more drink, play one more game or go to one more bar, now we are having a heart to heart at 6 am watching the sun rise over the Caribbean Sea.
If I were a drink I'd be: Stawberry Daiquiri. Nice and sweet but too much will give you a headache and make your teeth hurt.
Day drinking vs. night drinking: Day drinking – makes all adventures a little wilder and funnier.
How my partner would describe me… one word: trouble.
Chris
"On MTrek you'll find me: Trying to fit as much as possible into every single day. I'm obsessed with culture, history, fun and travelling. Come find me if you need an extra body for anything: let's hit the pavement/trail/zip-line hard for week 1 then let the hours melt away in the San Blas islands.
If I were a drink I'd be: Old Fashioned. I'm old and full of bitters. Official drink of the player hater's ball.
Day drinking vs. night drinking: A.M. Options: a pitcher and a crossword or a breakfast funnel. P.M. Options: midnight cocktails or team drinking games. Life is about compromises, except in this case – don't let a clock hold you back.
How my partner would describe me: "Not nearly as sober as he appears."
Team Gettin' Jebby With it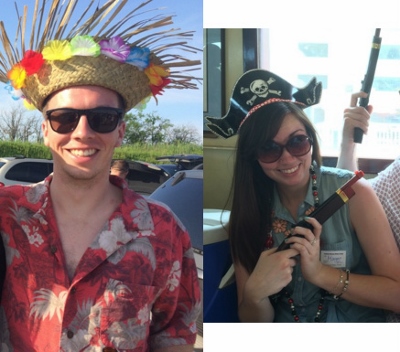 Peter
On MTrek you'll find me: Surviving and thriving. As the ever-insightful Cardale Jones once said, "We ain't here to play school"
If I were a drink I'd be: Sex on the Beach. If we find ourselves sleeping on a beach during this trip, don't answer if I come a-knockin' on your tent late at night… #SwingersTrek
Day drinking vs. night drinking: Day drinking – if you do it long enough, it turns into night drinking. BOOM.
How my partner would describe me: Probably the least helpful wedding planner of all time. By the way everybody: mark your calendars, August 6, biggest party of the year, but don't worry – all the major tabloids will be there if you don't get the invite.
Morgan
"On MTrek you'll find me: Attempting to speak (very broken) Spanish to everyone that I meet. I didn't study this language 9 years for nothing!
If I were a drink I'd be: Margarita on the Rocks. A little sweet, a little salty, best in the summertime and always present where good times are being had.
Day drinking vs. night drinking: Night drinking – there's something oddly rewarding about staying out until the sun rises.
How my partner would describe me: Directionally challenged. Right vs. left and the compass rose are deceivingly confusing. Needless to say, this trek leader will not be leading any of the city walking tours."
Chris and Allie "Selle-brate Good Times Y'all"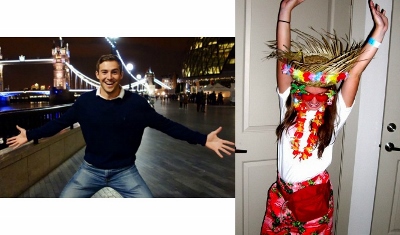 Chris
On MTrek you'll findme: laughing uncontrollably loud, showing off my oh-so- Amazing dance moves (I hope you don't embarrass easy), honing my spear fishing skills in San Blas (you'll thank me when you have the freshest of dinners), and pretty much any other activity that requires you to move your feet. If you want to do something, I'm there with you.
If I were a drink I'd be: Corona because I'm miles away from ordinary
Day drinking vs. night drinking: Day Drinking – Nothing says vacation like popping a top ocean side while the sun is coming up. Hey, it's5 o'clock somewhere!
How my partner would describe me: Like a Golden Retriever. Happy, loyal, and always ready to play.
Allie
On MTrek you'll find me: dancing with my hands in the air (like I just don't care), singing Taylor Swift randomly throughout the day, yelling "Geronimo!" while zip lining through the rainforests and trying not to embarrass the group (too much).
If I were a drink I'd be: Coors Light because I just like saying "Keurs Light!" in my Texas accent.
Day drinking vs. night drinking: How early is too early for day drinking?! I guess that's why they invented mimosas.
How my partner would describe me: As a Pioneer Woman (aka Ree Drummond) apprentice because I love to cook all of her meals. Pioneer Woman is the best!
Team Becky to the Max!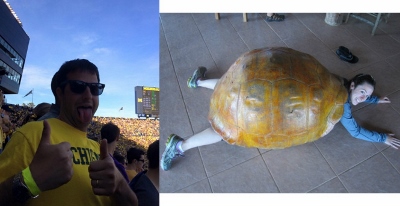 Becky
On MTrek you'll find me: Embracing the humidity of Costa Rica and pretending I don't care about my hair, giggling as I repel/snorkel/zip line, and most importantly encouraging everyone to take shots of Costa Rica's finest liquor, Guaro (it burns so good).
If I were a drink I'd be: Mimosa. Bubbly, sweet and can create fun at any time during the day.
Day drinking vs. night drinking: Day Drinking…that turns into Night Drinking. There is nothing quite like the satisfaction of realizing you've been out for 12+ hours.
How my partner would describe me: Becky has impeccable balance. Try to push her over when she's walking. It's impossible. Don't underestimate her strength. She's small but can probably kick your ass and drink you under the table.
Max
On MTrek you'll find me: Taking pictures of and identifying every animal we see, snorkeling in any body of water any chance I get, starting up a volleyball game with the indigenous people of the San Blas islands and eating all of the fried plantains put in front of me
If I were a drink I'd be: Fuzzy Navel. My navel is quite fuzzy and tends to come out to play once I've had too many pink/orange drinks with umbrellas in them.
Day drinking vs. night drinking: Day Drinking. Period.
How my partner would describe me: Max likes fruity drinks meant for teenage girls, sugary cereals meant for children and outdoor activities meant for mountain men.