Trip Region: Sub-Saharan Africa
Country(ies): Zimbabwe, Botswana, Zambia
Partners Trek? No
Trip Cost: $2525
Airfare Estimate: $1500
Nightlife: 5 • Activity: 10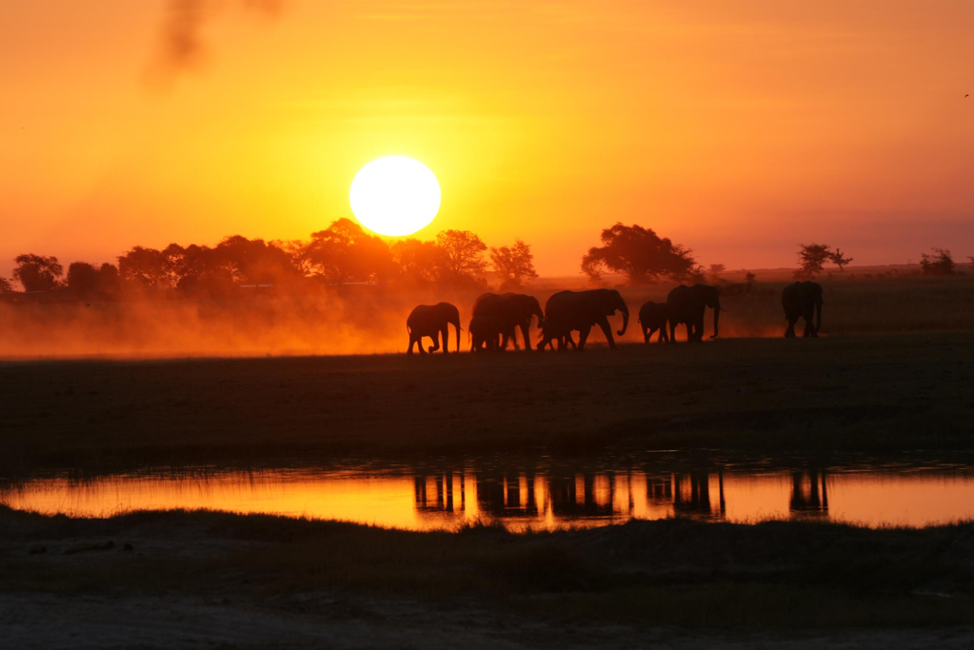 Let's be honest, this is the trip that you've been dreaming of since 3rd grade. A safari so real it puts Planet Earth to shame? Check. River cruise with hippos? Done. Night drive to see the watering hole come alive under the star-filled African sky? Of course. Raft the Zambezi? Add it in! Sit in the Devil's Pool atop Victoria Falls? Do it – you won't!
Welcome to the dream MTrek.
We'll kick things off in Africa's adventure capital, Victoria Falls, with a warm welcome party before hitting the road. First up: Hwange National Park, Zimbabwe's biggest. Sitting at the edge of the Kalahari, you'll spend two days getting up close and personal with everything from elephants and zebras to lions and cheetahs. Not enough nature? We'll be swinging on down into Botswana to Chobe National Park to see a different side of the continent: where the desert becomes wetlands. After a few more game drives and a river cruise, we'll return to Vic Falls for a surprise event! We'll round out our last few days with some showstoppers: a hike to the thunderous falls (bonus points if you actually go in the Devil's Pool), a rafting excursion, and a farewell dinner before we're on our way back to the good ol' US of A.
Travel Day — Saturday, Aug 15
Pack your backpack, grab your passport, and wave goodbye to your new friends. It's time to get out of the Arb and out into the world. Adventure is out there! Just don't forget the sunscreen.
Day 1 — Sunday, Aug 16
Touch down Zimbabwe! You're probably thinking "man, I can't believe I survived orientation - that was crazy! It's time for some R&R to prepare myself for classes in a few weeks." WRONG. After a quick stop-in at the hotel to drop our bags, we'll be kicking off the trip the right way: with a walking beer and gin tour of Victoria Falls. Time to scope the local scene for southern Africa's finest. Buckle up, campers. The adventure begins.
Day 2 — Monday, Aug 17
Rise and shine! We're hitting the road early for our first phase of our adventure by heading out to Robin's Camp in Hwange National Park. This ain't Leslie Knope's kind of park either. It's not just big. It's big big. And it plays host to some pretty cool animals that thrive within the parks' boundaries (millions upon millions of big herbivores being stalked by cheetahs and painted dogs!). We'll be spending the day out on game drives in the savannah where we'll try and capture the grandeur of the African wilderness before putting our phones away to just let it all sink in: we're deep in it. Back at camp we'll end the day in the pool, watching the sun set, with a cold beer in hand. Just sit back, vibe, and watch the neighborhood pride of lions. Feeling extra adventurous? As the stars come out, you'll have the option to join your leaders on a special night drive! Time to see a different side of life: one where it's cool enough for the big cats to hunt.
Day 3 — Tuesday, Aug 18
Wakey wakey eggs & bakey! You thought you had it all yesterday, but the nature offerings in this part of the world are nothing short of endless. And so back out on the trail we go- this time focusing on woodlands. We'll see some familiar faces (elephants! So many elephants!), and hopefully some new (panthers?!). Time to get competitive with our photography so that we can provide that peak #content later. Then, back at camp it's time to crush a power nap before getting geared up for MYSTERY THEME NIGHT #1! Prizes for the best costume.
Day 4 — Wednesday, Aug 19
Up and at em! It's not goodbye, just a see ya later, Zimbabwe. We'll be crossing the boarder into Botswana en route to Chobe National Park. Sitting at the bitter edge of the Kalahari, Chobe really brings it on the nature front. Every year the desert springs back to life as rains flood outward from the Zambezi producing one of nature's greatest spectacles. What's that you say? We'll be there right as this is happening? What luck! It's almost as if you planned it that way! (We did. This year's rains are #Sponsored by Deloitte. And yes, they are blessed.) And so out to look at it we will go: deserts to vlei to the mystical Linyanti Swamps. Pick an animal, any animal, and it's probably found here.
Day 5 — Thursday, Aug 20
Good morning Botswana! Today, we're getting wet. Not literally (well maybe), just the scenery- we're focusing on wetlands! Kicking the morning off, we'll be going out to spend a few hours splashing through marshes and rivers to see some new faces that thrive in this unique park's ecosystem. What? Not close enough? Fine. All aboard! We'll be spending one dope afternoon cruising around the river (beer in hand, I'm sure.). 10 points if you can feed one of the hippos your fruit.
Day 6 — Friday, Aug 21
No wakeup call today. Spend the morning sleeping in - you deserve it! We'll be getting a later start and driving back to Vic Falls. What to do with the afternoon though? That's for us to know and you to find out. Let's just say it's everybody's favorite phrase: "team building exercise."
Day 7 — Saturday, Aug 22
Oh and those falls, they're thicccc! Look alive, campers! We may be back in civilization, but the adventure never stops. Today's task: hike through the rainforest to explore one of the greatest natural wonders the world has to offer: VICTORIA FALLS. The towns eponymous attraction will be sure to live up to the hype. Longer than Niagara (4x) and with the largest sheet of water of any waterfall in the world, the Smoke that Thunders will actually get you wet. Pack that selfie stick and your bathing suit, it's time to give your parents a heart attack with an afternoon stop in the Devil's Pool. #PeakContent for sure. Later in the evening, we'll coalesce once again for our second MYSTERY THEME NIGHT. Time to party till our panties fly off.
Day 8 — Sunday, Aug 23
Oh you thought it was over just like that? Not so fast! If you're still wearing your underwear from last night, then today's activity will be sure to knock your knickers off. We'll start it slow by exploring the Boiling Pot area. Misty AF, this location offers another dope look at the falls. Nice. But what happens when an enormous waterfall plunges into a basalt gorge only 40m wide? One dope ride, that's what! Grab a helmet and a paddle, because we're going on one adrenalin-filled white-water adventure today!!! Remember… you're supposed to be IN the boat, Gilligan. Then we'll finish things off with one helluva braai (that's Afrikaans for barbecue). Traditional drum shows and a real down home African feast is the only true way to send us off in style. Hope you brought your dancing shoes!
Departure Day — Monday, Aug 24
We hate to see it, but all good things must end (Soojin's orders). But it's not farewell - we'll be seeing you back in the Arb for some more rollicking good fun. Totsiens, campers!
Stephen Koch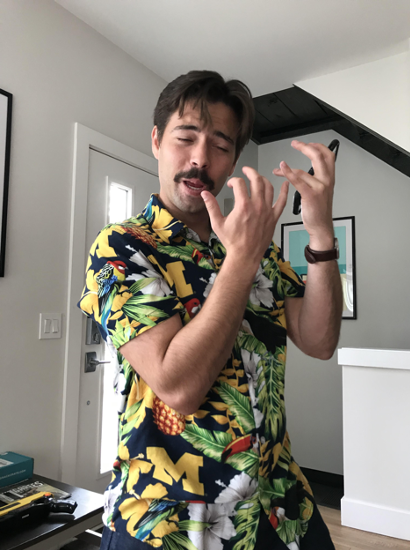 Did you know The Most Interesting Man in the World had a long lost son? He doesn't talk about him much for fear of being upstaged. Meet Stephen, or as we like to call him, Chuck! He's a California bro with all the mustachioed swagger you could ever hope for. He likes long walks on the beach, a delicate Napa Valley red, and uhhhhhhh….. 2 steak crunchwrap supremes, a baja blast – medium, and a 12-pack of cinnabon delights.
When he's not singing Cher in the shower, you can find him bustin a move on the dance floor (just wait until "Yeah!" comes on) or crushing it at beer die. Don't let the frat-star bio fool you; he's a Deloitte consultant, Cal Poly grad, low key genius, and will lead us all across the Savannah in one piece.
Claire Yee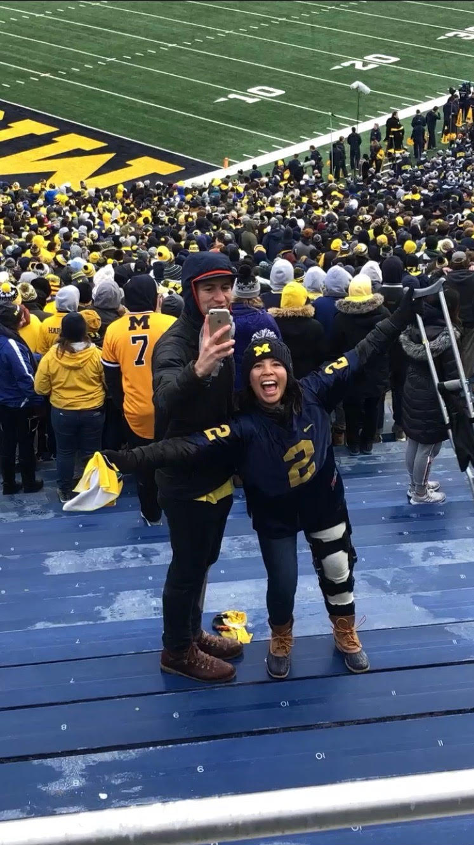 Here comes trouble and make it double! A double shot, that is… pickleback, served up by the biggest instigator Ross has to offer, Claire "Yeezy" Yee. Mariah Carey ain't got nothin on this Risky Business diva. She's the voice of a generation. This generation to be precise. Queen Elizabeth once called her sweet melodic trill "inspirational" and even asked Claire to perform at her Diamond Jubilee! When she's not crushing it on stage, she's leading the #RossFitFam at the gym. But just between us squirrel friends, she'd be sweating profusely after one squat and asking about when we can go to BTB (an Ann Arbor institution!) for burritos. While she will be most likely to scold you for not finishing your meal, she is one boss-ass lady: star on stage, Story Lab LEGEND, and future Googler.
Sam Buck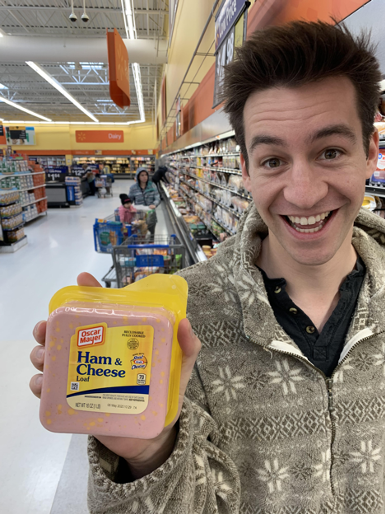 Ernest Hemingway once said that "Courage is grace under pressure." Sam Buck had never heard that quote. Nor does he know who Ernest Hemingway is. Stuck in 2010, Sam prefers to spend his days eating avocados, abandoning his footwear (flip flops only) at the clerb, drinking Two Hearted, and listening to Jack Johnson. He comes to Ross from the Golden State (man… another Californian?), having built his career in the education and philanthropy sectors, and will be spending his summer impact investing with REDF in San Francisco. When he's not jammin to JJ, he spends his time working for the Social Venture Fund and inhaling cheese puffs.
Get to know him while you can! He'll likely decide to stay on one of the reserves forever.
Katie Wheeler
She told us to call her a "sexy sax woman" in her bio and now we're contractually obligated to write that in. Meet Katie: Quasi-Erber by day, burrito-enthusiast by night! This New Yorker comes to us by way of Boston, having worked in the non-profit sector to build affordable housing and develop strong communities. She is known for her bright smile, cheery attitude, and love for vegetables. When she's not crushing psets or saving the world with the Social Venture Fund, you can find her out on the road backpacking to yet another exotic destination. Will she disappear from the trek and decide to backpack her way home to Michigan? Probably. Should you join her? No, we're responsible for getting you back and to class on time (but do it anyway).
Tim Blair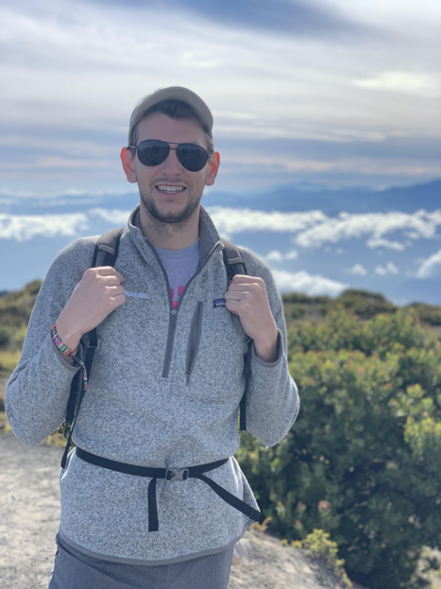 MBA by day, seer by night, Tim is a visionary living his truth. Sometimes that truth involves selling beer by the case out of his haunted house, sometimes it involves playing Super Smash Bros. (N64 version only) until your eyes close themselves. If you are lucky, Tim will read you your future with the help of his handy dandy crow-themed tarot cards. (Spoiler alert: You are going to bless the rains down in Africa). He's more handsome (but less sparkly) than Edward Cullen on a bright summer's day and wittier than Liz Lemon in Season 2. It's probably best to stay on his good side, because he's literally been hired to design the future of the interwebz at Cisco this summer. As a wise Yeezy once said, "No one man should have all that power." But here we are. It's Tim's world and we're all just living in it.