Trip Region: Central America
Country(ies): Costa Rica
Partners Trek? Yes
Trip Cost: $1829
Airfare Estimate: $450
Nightlife: 6 • Activity: 7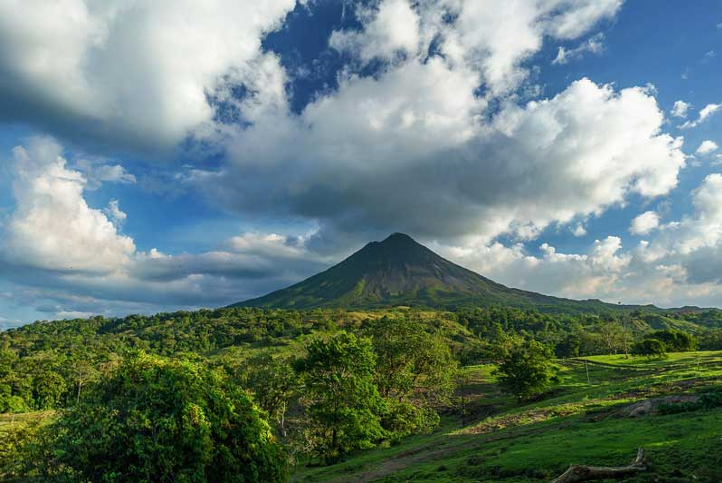 Come explore Costa Rica with your partner and have an amazing adventure before starting your MBA journey.  You'll get a great mix of city exploring, jungle trekking, and beach rest and relaxation.  Choose your own adventure on this trek with activities including salsa dancing lessons, volcano hiking, zip lining in the jungle, surfing lessons and a catamaran cruise.  We can't wait to "tropic like it's hot" in South America with you!
Travel Day — Sunday, Aug 16
Check in at your hotel in San Jose, followed by a fun group welcome dinner.
Day 1 — Monday, Aug 17
Start the day off with an informative San Jose city tour, followed by a group cooking class at a family home in Escazu. End the day with an option salsa dancing lesson back at our hotel.
Day 2 — Tuesday, Aug 18
Today we head to Arenal and visit the Poas Volcano! After checking out the volcano, we visit La Paz Waterfall Gardens and enjoy lunch at La Paz. In the evening we check in to our hotel and have dinner at Baldi Hot Springs.
Day 3 — Wednesday, Aug 19
This morning is the big adventure morning! We will take on the high ropes course and enjoy ziplining in the heart of the rainforest at the Sky Adventures Arenal Park. Following this adventure, enjoy a free afternoon to relax and explore on your own. There will be an optional night time swim under the stars at the La Fortuna Waterfalls.
Day 4 — Thursday, Aug 20
Today we travel to Monteverde and stay at the Cloud Forest Lodge. In the evening we embark on a night hike to walk in the forest that's fully alive with many sounds, animals and insects. We finish the day with dinner together at the lodge.
Day 5 — Friday, Aug 21
Today, it's on to Punta Leona where we have a much needed day of rest and relaxation. Enjoy a free day at the beach or the pool or both!
Day 6 — Saturday, Aug 22
Ready to hit the surf and the sand? Enjoy a free day of surfing and beach activities or embark on the high seas with an optional Tortuga Island catamaran day cruise.
Day 7 — Sunday, Aug 23
It's our last full day in Costa Rica! We'll travel back to San Jose today and then say goodbye to the jungle sunsets with a final group farewell dinner.
Departure Day — Monday, Aug 24
Wave goodbye to your favorite Costa Rican memories as we fly back to the US today.
Lindsey and Steven Kemp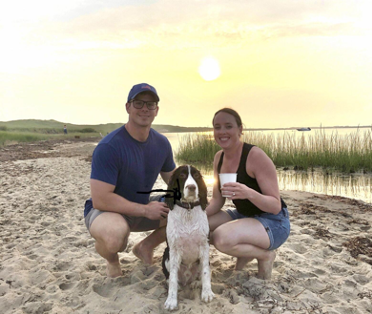 Lindsey Kemp
Hometown: Newport, RI
Favorite Band/Artist: Ellie Goulding
Favorite Movie, Book, or TV Show: The Art of Racing in the Rain, Schitt's Creek
Why you want to hang with me: Always up for an adventure and trying new things!
My Partner's Weirdest Quirk: His obsession with Jean Claude Van Damme movies.
Hidden Talent: Handstands…Handstands Everywhere
Perfect MTrek Day: Touring the sites, eating all the local foods, and relaxing on the beach with a drinkie in my hand.
What Drink Best Describes Me: Classic Margarita on the Rocks with Salt, a little salty and sour but always up for a good time.  Pairs well with guac (always add guac).
Steven Kemp
Hometown: Pittstown, NJ (Dirty Jerz!)
Favorite Band/Artist: Carly Rae Jepsen always has a special place in my heart
Favorite Movie, Book, or TV Show: Bloodsport, The Martian, and Workaholics
Why you want to hang with me: Laid back and goes with the flow.  Likes to try new things and always up for a good time.
My Partner's Weirdest Quirk: She likes to get drunk and talk about healthcare and sometimes tries to sneak away and take secret tequila shots. 
Hidden Talent: Juggling
Perfect MTrek Day: "On the beach, taking in some cosmic rays, getting healed by mother nature, taking in a little brewski and holdin on to a beautiful babe…" – Malibu, American Gladiator
What Drink Best Describes Me: Bottomless Mimosas…Lets get weird!
Teddi Marzofka and John Karlen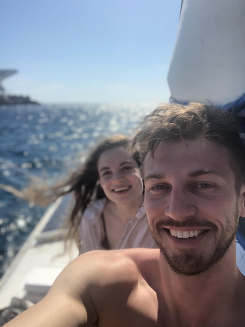 Teddi Marzofka
Hometown: Wausau, WI
Favorite Band/Artist: Lord Huron, Glass Animals, St. Paul & The Broken Bones
Favorite Movie, Book, or TV Show: Annihilation, Name of the Wind, and Bob's Burgers
Why you want to hang with me: Advocate for staying hydrated (will make sure you mix in a water), always ready to pet dogs, and will make sure everyone gets home mostly alive
My Partner's Weirdest Quirk: 1) He's probably going to mention his laser vision in conversation 2) ask him about carbs, I dare ye 3) You will always hear him before you see him
Hidden Talent: An astounding cruciverbalist
Perfect MTrek Day: We wake up, apply sunscreen, spend all day outside playing and eating and as a bonus in 30 years enjoy perfect skin like Nicole Kidman.
What Drink Best Describes Me: A coffee stout…seems intimidating but pairs well with breakfast and a dark sense of humor
John Karlen
Hometown: Saint Paul, Minnesota
Favorite Band/Artist: J. Cole, Hozier, Anderson .Paak
Favorite Movie, Book, or TV Show: John Carter of Mars, American Gods, Castlevania/Death Note
Why you want to hang with me: Boatloads of energy, will play any game at any time, and has a Leonardo Teenage Mutant Ninja Turtles onesie
My Partner's Weirdest Quirk: Believes soup is a food group and looks damn fine in any hat
Hidden Talent: Can leap tall buildings in a single bound (aka can dunk)
Perfect MTrek Day: Coffee, Local Food, Surfing, Drinking, Sunning, Dancing, Sleeping
What Drink Best Describes Me: French 77 – tart, sweet, bubbly, and super pretty to boot