Trip Region: Eastern Europe
Country(ies): Georgia, Armenia
Partners Trek? No
Cost: $1595
Airfare Estimate: $1700
Structure: • Lodging: • Nightlife: 7 • Activity: 8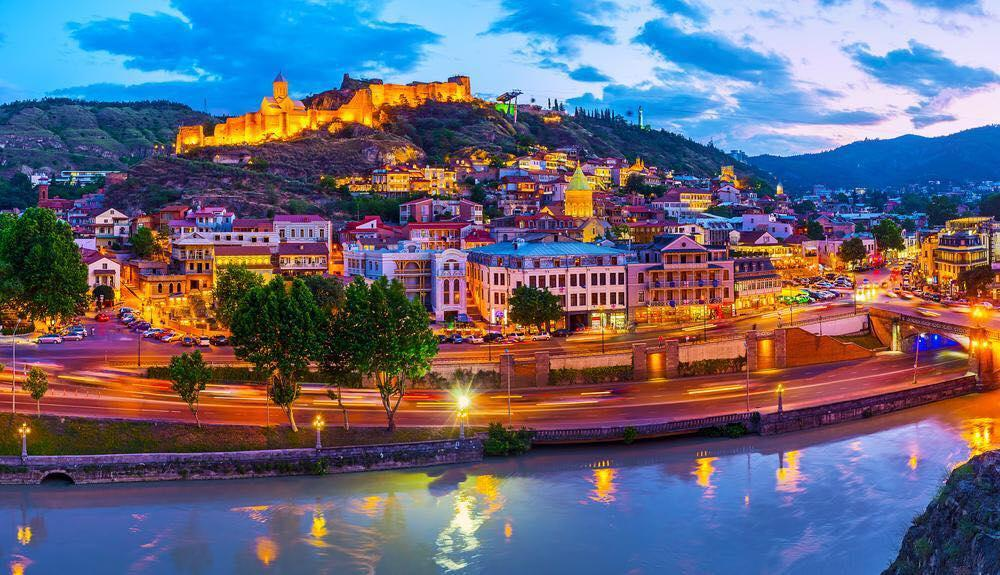 What do the Kardashians, every history book ever (shoutout history), System of a Down, Zaza Pachulia, the late Anthony Bourdain, and the New York Times Places to Go lists have in common? They all f&@$#* love Georgia and Armenia.
Do you like culture? Would you like to eat some of the best food in the world? Do you want to meet a group of MBA2s from all walks of life (even Minnesota!) who are committed to giving you a fun-having, foreign-lands-exploring, wine-tasting, boat-riding, Instagram-filling, 35-more-adjectives-for-awesomeness-including trip of your life? If so, then please join us as we embark on a trek to the Caucasus!
Our journey begins in Armenia, a landlocked country with an intensely rich history and so much cognac that it makes rap videos from 2003 look like meditation retreats. In four days you will explore virtually every element this country has to offer. From its world heritage sites to its food, we will travel by foot, bus, and boat as we take in all of the sights and sounds of the former Soviet republic. Along the way, we will make time to get to know each other, share secrets together, laugh together, cry together, and eat so much together that we will no longer be able to physically fit together. (Calories don't count in the Caucasus, it's whatever.)
After a seamless border crossing, we will make our way into Georgia. If you are expecting to see Atlanta or find a Chik-Fil-A, then you probably didn't read this overview. Instead, we will kick things off in the capital city of Tbilisi, one of the most fun, eclectic, and (again) historical cities in the region. We will take a dip in the famous sulfur baths and get to dine with a local family. To say that the local hospitality is generous would be an understatement, so be prepared for the hosted dining experience of your dreams. And because no MTrek would be complete without a little viniculture, we'll make a stop at a winery on our way out to the coastal city of Batumi, the summertime hotspot. There, you'll have your pick of activities, ranging from botanical gardens and beach to (of course) more boat rides and nightlife.
With that, in the blink of an eye, our time together will be over, your trek leaders will say a toast that sounded better in their heads than it did in real life, and we'll be heading back home to the US of A.
Day 1 — Friday, Aug 16
You've settled into your new Ann Arbor digs. You've caught up with your buddies from GBR and met some of your new classmates. You like some of them. Others treat the Ross Class of 2021 GroupMe like it's an AIM chatroom. Schmoozing is exhausting, Bill's Beer Garden is humid, and you are no longer employed. Sounds like there's no better time to hop on a transcontinental flight to the Caucasus. Pack a good book and download a few episodes of Parts Unknown or Keeping up with the Kardashians, because in a matter of (many) hours, we'll be touching down in Yerevan, Armenia.
Day 2 — Saturday, Aug 17
That was a long flight, know what Armenia? Once we pray to the baggage gods that everyone's stuff made it halfway around the world (BRING A CARRY-ON!), we'll gather our things and make our way into Yerevan. Travel days can be exhausting, so we'll give everybody a chance to freshen up, take a quick snooze, and explore Armenia's capital city. We aren't suggesting that you punt the day away, and your leaders will likely want to visit a bar or three on our first night. It is Saturday night, after all.
Day 3 — Sunday, Aug 18
After our first-night hibernation, we'll be led on a walking tour of Yerevan, where our guide will take us to open-air modern art museums, postcard monuments, and all of the epic views your Instagram-controlled hearts can handle. #Culture. We will then take a quick ride to the Garni Temple, a Hellenistic monument built more than two thousand years ago and the only one in the world of its kind. From there, a jeep tour will take us to the Garni Gorge, a UNESCO World Heritage Site that our tour guides have told us is commonly called a "Symphony of Stones." Groovy. Lunch will be followed by a trip to the Armenian Brandy factory on our way home. We can't imagine what we'll do there. And as we make our way back into Yerevan, we'll load up on micronutrients at the popular Fruit Market and hit the town for our second night.
Day 4 — Monday, Aug 19
Look at me - I am the captain now. It's boat day. Pack your sailor caps. Our day kicks off with a ride to Lake Sevan, known as the "Pearl of Armenia" and the largest alpine freshwater lake in the Caucasus region. After basking in the tranquility of the water and the whispers of your new family, we will hop to our feed and trek through green valleys and dense woods. Our destination is Gosh Village, a forest oasis, at which we'll have lunch with the locals. Think of this day as a choose your own adventure, where you'll have a choice to live your best life on the back of a horse, on another beautiful hike, or at the YELL Extreme Park. This is the actual name of the park. Sounds extreme. This will be our last night in Armenia, and tomorrow we will be making our way toward *Ludacris voice* Georgia.
Day 5 — Tuesday, Aug 20
Get up, stretch your legs, and do those pushups you swore you'd do every morning but haven't even considered to this point. We're hopping back our bus and heading toward the Sadkhlo border crossing. Once we emerge on the other side, we will continue to Tbilisi. Things can get a little weird (in a good way) in Tbilisi, so make sure you get a nap in on the bus. Who knows where the night will take us?
Day 6 — Wednesday, Aug 21
It's already Day 5. How's that fair? Anyway, we'll kick things off with another walking tour, which begins with a trip to the traditional sulfur baths. Nothing like cleansing your soul in warm water that smells like a fart. (But seriously, we heard this is a very relaxing experience.) Once we've reached our optimal Zen levels, we'll check out some of Tbilisi's best known sites. Then it's time for the main event – a hosted meal with a Georgian family. Local custom dictates that guests are blessed gifts from God (they clearly haven't met Zach), so prepare to be welcomed into the family like a long-lost relative. This might be the first time we taste Khachapuri, the famous Georgian cheese bread that we will eat approximately 27 times. They may kill us with calories, but assuming we all make it through, we'll head back to the hotel and into the night.
Day 7 — Thursday, Aug 22
Wave goodbye to Tsblisi, as we have more adventure to undertake. We will take the historic Georgian Military Road, named for its use by foreign invaders (read: us,) north to Aragavi River for some white water rafting. After ignoring Ben's request to paddle the entirety of the river, we will head to the Ananuri Fortress where we will take in incredible views and get schooled on medieval architecture. From here we finish our day in Stepantsminda where we continue our new tradition of gorgeoing on Georgian food.
Day 8 — Friday, Aug 23
We start the day in Stepantsminda by getting our culture on at the Gergeti Trinity church with its sweeping views of Mt Kazbegi. After that, it's Bertony and Jenni's time to shine as we drive to Chardakhi and visit the Iago's wine cellar. The traditional BIO wine produced here is featured around the world as a delicacy, so why not get it from the source? We end the day in Kutaisi, a unique city on the Rioni River.
Day 9 — Saturday, Aug 24
Onwards to Batumi! This city is Georgia's summer holiday capital and has fully embraced its nickname as the Vegas of the Black Sea. We intend to test those credentials. We'll introduce ourselves by taking a tour along Batumi Boulevard taking in the sculptures, fountains, Piazza square and possibly finding our way into a beach bar. Dinner will feature more Georgian food than we will admit back in Ann Arbor, followed by a night exploring the Batumi's nightlife
Day 10 — Sunday, Aug 25
We did mention the Black Sea right? And what's summer without a little boating and beer. We'll spend our last full day together on the water taking in the sights and having a few adult beverages as we enjoy a private boat cruise. Once back on the mainland we'll enjoy a teary eyed final group dinner before ending the trip in style
Day 11 — Monday, Aug 26
All good things must come to an end, and sadly this trip is no exception. But hey, at least you don't have to go back to your job! And you'll have the memories of rafting, exploring historic sights, wine tours, and Pat icing Zach multiple times to see you through. Not to mention the inevitable embarrassing dance offs with your new family that we will pretend didn't happen. See you all back at Skeeps...we mean Ross!