Trip Region: Eastern Europe
Country(ies): Turkey, Bulgaria
Partners Trek? No
Cost: $1815
Airfare Estimate: $1500
Structure: • Lodging: • Nightlife: 8 • Activity: 6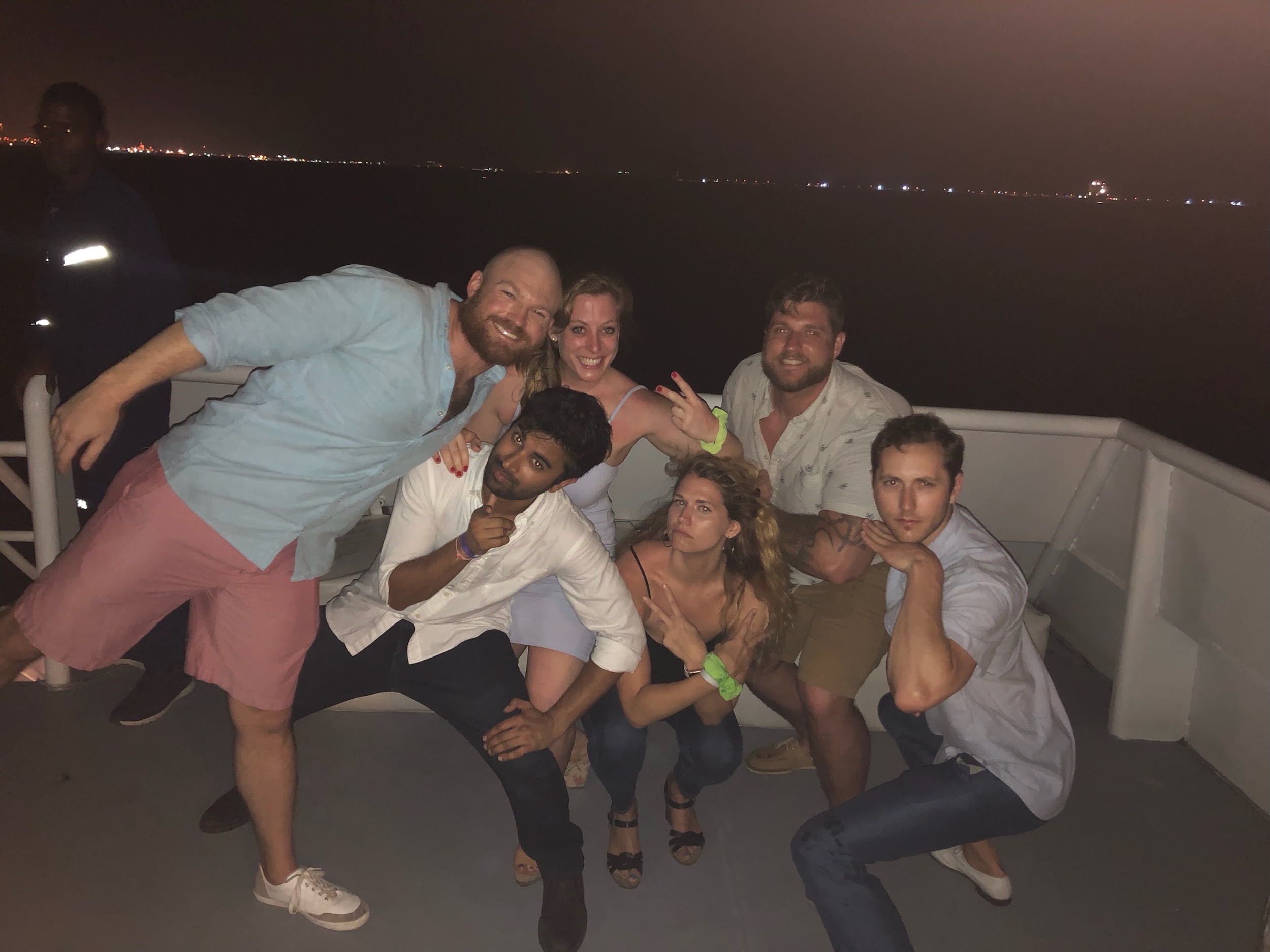 Want to be the only trekker who travels to two continents? Look no further than "Like a BOSS-phorus: boats, bazaars, and Black Sea ballin." Our trip will have beaches, vineyards, mud baths, hiking, fascinating history and culture, drinking along previously mentioned beaches and more! We'll start cruising down the picturesque Bosporus and explore Istanbul's unmatched sites, including the Hagia Sophia, commonly regarded as "the eighth wonder of the world." Woah. After, we'll weave like the Orient Express through Bulgaria. Bulgaria, you ask? Bulgaria might not yet be a well-known destination (except for the mythical Durmstrang – ugh Olivia making us write Harry Potter references)…so here's a preview of what is quickly becoming one of the most exciting places in Europe. And remember, you can't put a price on saying "I went there BEFORE it was cool." We will begin in Nessebar, a UNESCO Heritage Site with beaches along the Black, like our souls and humor, Sea. Next, we will venture to Plovdiv, recently honored the 2019 European Capital of Culture. Hype. The trip will end in Sofia, with a retreat to Mt. Vitosha for epic vistas. The battle for the best MTrek Instagram is an unspoken but very real phenomenon, start the year off on the right foot by asserting dominance over your classmates. Get ready to have the time of your life alongside some of Ross' finest (and wisest?).
Day 1 — Friday, Aug 16
Congratulations on surviving Orientation, Impact Challenge, and (hopefully) your first Rick's experience! Get some rest and recover on the plane because at wheels down it's game faces on. It all begins tomorrow, so get in your Netflix and chill(ed wine) now!
Day 2 — Saturday, Aug 17
Welcome to Istanbul, where east meets west! Take the day to relax and get used to the time change. Recommended ways of fighting jet lag include day drinking with your MTrek leaders and mainlining caffeine. In the evening, we'll meet up for a welcome dinner and get to know one another as we compare our Michigan leadership colors and experience Istanbul's famed Raki.
Day 3 — Sunday, Aug 18
Charge your phones and get ready to generate content; today we'll go sightseeing. We'll start at Topkapi Palace, where you can channel your inner royal (odds are, Michael Cohen will leave with a crown). Set atop the most visible hill of Istanbul, Topkapi Palace, is the symbol of the city. Then we will hop on a boat and cruise down the Bosphorus, enjoying our life of leisure and a high likelihood that OG throws Michael "The Stud" Cohen overboard (don't worry, he'll probably deserve it). Finally, you will experience the Turkish Hammam, a traditional Turkish foam massage to get you relaxed and ready for MBA recruiting. Google that shiz, seriously you will leave a changed person...literally #freshepidermiswhodis
Day 4 — Monday, Aug 19
If you thought Day 2 was gram-worthy, buckle up because we're cranking it to 11. First, we'll head to the Hagia Sophia, which dates back to the 6th century and is regarded as "the eighth wonder of the world." We'll continue on to the Blue Mosque, a breath-taking building and one of the most majestic Ottoman mosques in all of Turkey. Then we'll visit the Grand Bazaar, one of the largest and oldest covered bazaars in the world for some epic #shopping. The Grand Bazaar is 30,700 square meters with over 60 streets and alleys and 4,000 shops, so Sarah is likely to find a stand where she can be suckered into overpaying for merch and convince Amrit and Shush to indulge as well.
Day 5 — Tuesday, Aug 20
Today we'll hop on a bus and make our way to Nessebar/Sunny Beach. The clubs at Sunny Beach are some of the most famous on the Black Sea, so get ready to get weird in the evening. We all know Amrit is ready to take on the dance floor, while Kevin will be sure to make new friends with a new set of Turkish puns. What happens on the Black Sea stays on the Black Sea.
Day 6 — Wednesday, Aug 21
Beach and boat day! Alex is bound to find some sort of motorized vehicle with which to adventure, so we figured we'd just get him a boat.
Day 7 — Thursday, Aug 22
We'll go on a day trip to Nessebar, whose ancient ruins make it a UNESCO Heritage Site. #culture. For lunch, we'll head to a local vineyard to try some of the best Thracian wines. Remember, the more wines you drink the classier you are (OG is a shining example...OG also wrote this comment). Make sure to pack your swimsuit; on the way back (if we ever leave), we'll stop at an open air mud bath.
Day 8 — Friday, Aug 23
Today we will travel inland via bus to Plovdiv, Bulgaria's second largest city. In the afternoon, we'll tour the city and see why it was named this year's European Capital of Culture. In the evening we'll show the city why "Culture" is a word that would never be used to describe any of us.
Day 9 — Saturday, Aug 24
We'll get back on the bus to go to Sofia, the capital and largest city in Bulgaria. After we arrive, we'll have the day to walk around and explore to our liking. I-N-D-E-P-E-N-D-E-N-T.
Day 10 — Sunday, Aug 25
We'll spend our final full day hiking Mt. Vitosha, the fourth highest peak in Bulgaria. Get ready for the booze sweats. When we get back to Sofia, we'll meet up for dinner to celebrate our athleticism and end the trip in style. This is our last night together (crying face emoji), with a last group dinner and turn up in Bulgaria. Be sure to leave it all on the field this time, kids.
Day 11 — Monday, Aug 26
All good things come to an end. Time to travel back to Ann Arbor. Don't worry, you'll see us back on-campus to relive the glory days. Remember, what happens on MTrek, stays on MTrek. On the plane ride back to Michigan, let's braid each other's hair and plan our first pre-Skeeps reunion.